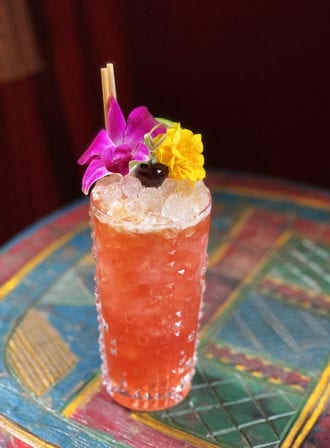 Inspired by the Jungle Bird cocktail, the staff at Bar Marilou tinkered with the proportions of rum and Campari to make a slightly more bitter and aromatic version of the original. "The absinthe and the falernum add spices and herbal flavors. The [Fernet Branca] spray at the end gives a fresh nose and the bitterness stays on the top to the end," says bar partner Carina Soto Velasquez.
1 oz. Campari
¾ oz. blackstrap rum
¼ oz. velvet falernum
½ oz. pineapple syrup
¾ oz. fresh lime juice
1 dash absinthe
1 spritz Fernet Branca
Tools: shaker, strainer
Glass: highball
Garnish: lime wheel, edible flowers, cherry
Shake all the ingredients except the Fernet together with ice, then strain into an ice-filled glass. Top with crushed ice, garnish, then spritz Fernet Branca on top of the drink.   
Pineapple Syrup: Combine 1 cup of fresh pineapple juice with 1 cup of sugar and shake to combine. Store in refrigerator for up to 2 weeks.
Bar Marilou, New Orleans
---
Did you enjoy this recipe? Sign up for our newsletter and get our favorite drink recipes of the moment in your inbox every month.