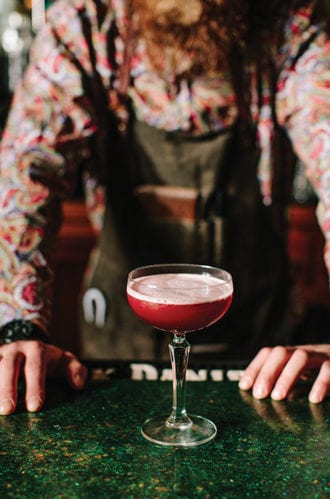 This brandy cocktail from Milwaukee gets a rich boost from the addition of port and spiced raspberry syrup.
1 oz. apple brandy (The Original uses Laird's 100 proof)
½ oz. Cognac
¾ oz. spiced raspberry syrup
¾ oz. port (The Original uses Wollersheim)
½ oz. fresh lemon juice
1 dash orange bitters
1 orange peel
Tools: shaker, strainer, fine strainer
Glass: coupe
Shake the first 6 ingredients with ice, then double strain into a chilled glass. Twist the orange peel over the drink, then discard.
Spiced Raspberry Syrup: Boil 1 quart of water and remove from heat, then add ½ oz. of ground black pepper and ¼ oz. of black cardamom; steep for 15 minutes. Strain through a fine-mesh strainer and return the liquid to the pot, along with 1 lb. of frozen raspberries. Bring the mixture to a boil, then cover and remove from the heat; let the mixture rest for 10 minutes. Use an immersion blender to blend the mixture, then strain through a fine-mesh strainer. Weigh the remaining liquid, then add an equal amount of granulated sugar, stirring until the sugar dissolves. Bottle for use, and keep refrigerated for up to 1 month.
Cameron McKenzie, The Original, Milwaukee
---
Did you enjoy this recipe? Sign up for our newsletter and get weekly recipes and articles in your inbox.