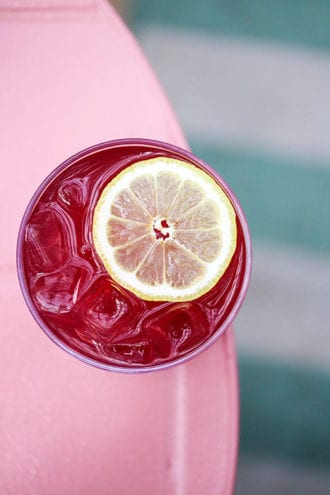 The sweet tartness of crème de cassis works wonders in this boozy take on lavender lemonade.
1½ oz. gin
½ oz. crème de cassis
1 oz. fresh lemon juice
½ oz. lavender syrup
½ oz. honey water (equal parts honey and water)
Tools: shaker, strainer
Glass: rocks
Garnish: lemon wheel
Combine all the ingredients in a shaker with ice and shake to chill. Strain into a rocks glass over fresh ice and garnish.
Lavender Syrup: In a quart container combine 2 cups of granulated sugar and 1 cup of dried lavender flowers. Top with 3 cups of boiling water and dissolve the sugar. Let the mixture steep for 15 minutes, then strain out the flowers. Transfer to a bottle keep refrigerated for up to 2 weeks.
Ian Fletcher, Calico, Washington, D.C.
---
Did you enjoy this article? Get more of the best of liquid culture when you sign up for a print or digital subscription to Imbibe Magazine. Click here for special savings!