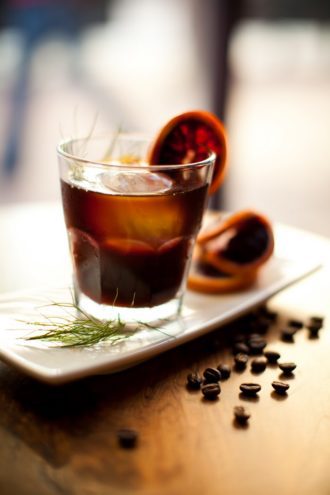 For a citrusy twist on cold-brew, San Francisco café owner Phillip Ma steeps slices of blood orange in coffee. Bolster the brew even more by using a Central American coffee or one with similarly citrus-forward flavors.
12 oz. fresh coffee, ground for French press
12 cups water
2-4 blood oranges, depending on size
Tools: Toddy cold-brew or large bowl and cheesecloth, knife
Glass: rocks
Garnish: blood orange wheels
Steep coffee in water for 18 hours in either a Toddy cold-brew system or tightly tied in three layers of cheesecloth in a large bowl. Thinly slice the blood oranges into wheels and add to the coffee. Refrigerate for 1 hour, then serve over ice garnished with more blood orange wheels.
Phillip Ma, Ma'velous, San Francisco