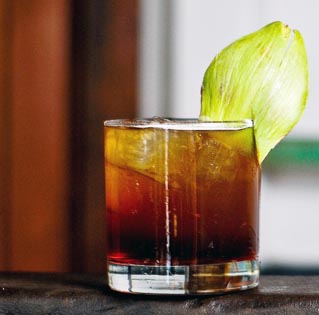 A hoppy IPA meets its spirited match in this beer cocktail with herbal Cynar, rich Jamaican rum and fruity Madeira.
1 oz. Cynar
¾ oz. Jamaican rum
¾ oz. Madeira
1 tsp. honey syrup (3 parts honey diluted with 1 part hot water)
1 dash of Angostura bitters
1 oz. IPA beer
Tools: mixing glass, barspoon, strainer
Glass: rocks
Garnish: fresh artichoke leaf, optional
Combine all ingredients, except beer, and stir with ice. Strain into an ice-filled glass. Top with beer, stir and garnish.
Chris Frankel, Anvil Bar & Refuge, Houston TX