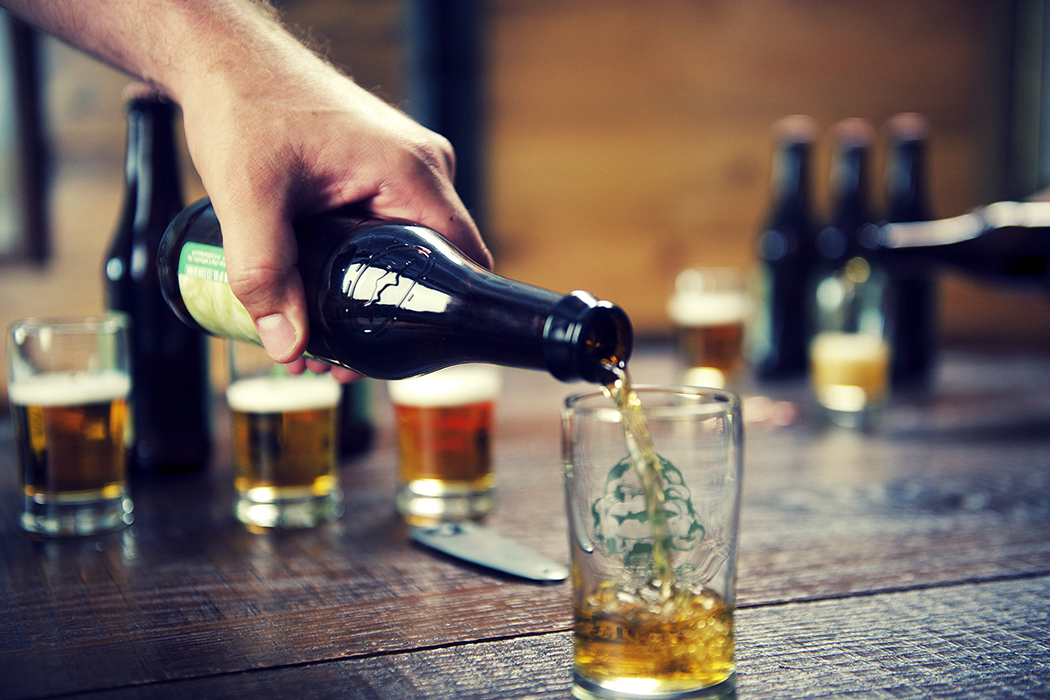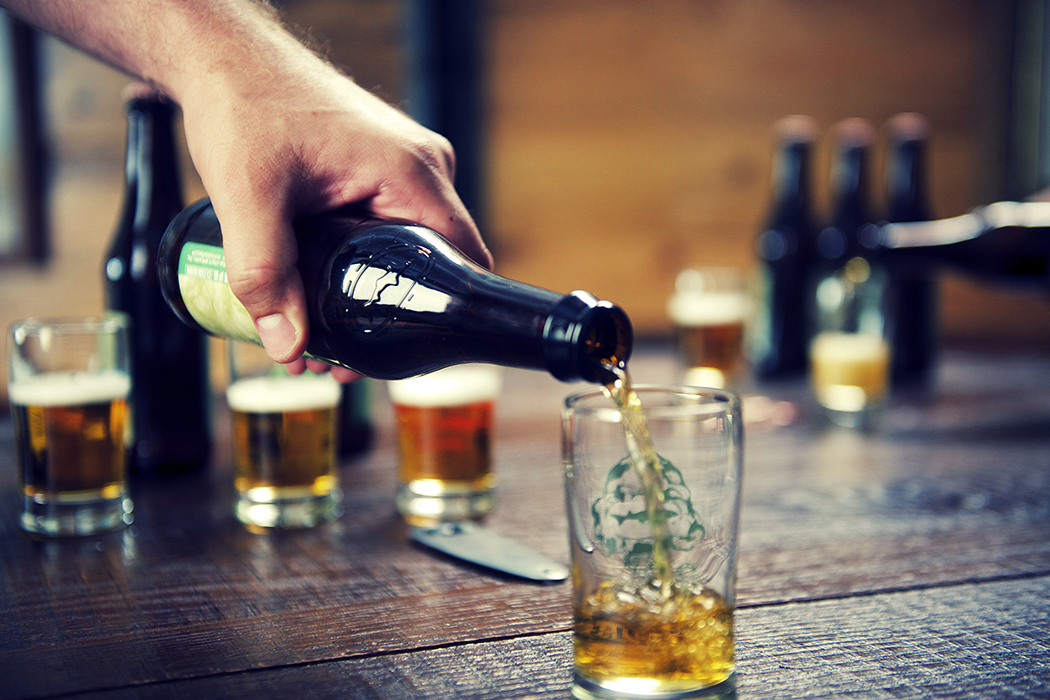 This time of year, many folks will tell you to reach for a sessionable, easy-going pale ale or pils to accompany that heavy Thanksgiving dinner. But sometimes it's ok to opt for bolder beers that will stand out a bit more during the meal. Check out a few of our favorites below, but remember to drink in moderation—these brews can pack a punch.
21st Amendment Brewery | Oyster Stout
San Francisco, California, 7.9% ABV
We love 21st Amendment's Marooned on Hog Island, a 7.9% ABV stout with a medium-light body and slightly muted brine element. It'll please a range of stout drinkers from those who crave a lot of complexity and personality to the ones who prefer a lighter version of the malty brew. Expect flavors of sweet caramel, chocolate and roasted coffee with a thin outline of sea salt.
Almanac Beer Co. | Saison de Brettaville
San Francisco, California, 7.2%
The perfect bottle to bring to the table for sourheads, this booming, citrusy Saison has all the subtle funk one might expect from the addition of the wild yeast known as Brettanomyces. Over a dozen strains were introduced during the brewing process,adding loads of complexity to this dry-hopped brew, and rime spent aging in white wine barrels gives the beer a soft, round body and very slight hints of dry oak. It's a well-rounded Saison perfect for sipping before dinner with some funky cheeses and salty charcuterie.
Alpine Beer Company | Pure Hoppiness IPA 
Alpine, California, 8% ABV
When Alpine Beer Company and Green Flash joined forces a year ago, beer geeks were excited to see what sudsy treats would result from the merger. As of early November, the first national release officially hit stands in all 50 states—a delightfully hoppy West Coast-style IPA called Pure Hoppiness. At 8% it's got a medium-level of sweetness for its double strength, with a satisfying round body. If this is a sign of beers to come, we're sitting squarely in excited mode.
Dogfish Head Brewery | Pennsylvania Tuxedo
Milton, Delaware, 8.5% ABV
Everyone's favorite Delaware brewery has a bunch of mouth-watering special releases lined up for the season, and we're especially enamored with the spruce-infused Pennsylvania Tuxedo. The beer was created in collaboration with outdoor outfitter Woolrich as an "homage to the flannel-suited hunters and gatherers who dwell deep in the backcountry of Pennsylvania." Surprisingly light and drinkable for its 8.5% ABV, the pale ale is crisp with a slightly woody character and a soft layer of sweet lemon peel and pomegranate flavors. It's made with fresh, resinous conifer tips, but the piney nature of the star ingredient weaves evenly throughout.
New Belgium Brewing |Accumulation White IPA
Ft. Collins, Colorado, 6.2% ABV
Four hop varieties give this winter IPA plenty of citrus, floral and piney notes with a solidly bitter backbone. It's bold but bright and will perfectly cut through the many rich, creamy flavors of a Thanksgiving spread.
New Holland Brewing | Dragon's Milk Bourbon Barrel Stout
Holland, Michigan, 11% ABV
Dragon's Milk was first brewed in 2011, and it's been a perennial favorite of winter beer geeks ever since. This ultra-smooth barrel-aged stout is packed with warming flavors of roasted coffee, dark chocolate and vanilla. At 11%, it's definitely one to sip slowly, especially as an after-dinner beer paired with a rich, chocolatey dessert.
Sierra Nevada Brewing Co. | Ovila Abbey Golden Ale with Pomegranate
Chico, California 8.5% ABV
This year's Ovila release features a special twist—juice from pomegranates grown and harvested by the monks at the Abbey of New Clairvaux in Vina, California. Sierra Nevada chose the fruits to work as a counterpoint to the spice and fruity notes found in their popular Belgian-style Golden Ale. The results are spectacular: the semi-dry beer is balanced and light-handed with the sweet crimson pomegranate. As it warms, a distinct wheat character emerges in the thick, chewy body, ending in a refreshingly tangy kiss. Awesome for pairing with dinner.