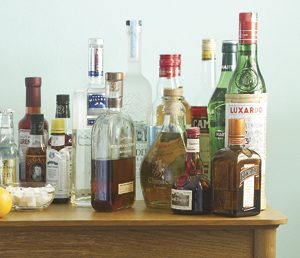 When it comes to making well-crafted cocktails, investing in quality ingredients is always important, but that doesn't mean your choices need to break the bank; there are plenty of spirits out there that represent excellent values. To begin, think of how you plan to use certain spirits: are you more interested in sipping them or mixing them in cocktails? A sipper, for example, might cost you more than a spirit that doesn't need to be the star of the show. Also realize that it's easier to find good values in some spirits categories more than others: There are several very good rye whiskies available for less than $20 a bottle, for instance, while it can be hard to find a quality reposado tequila for under $30.
We encourage checking regularly with your local spirits merchant about special deals that may be available on certain spirits, and if you're having trouble deciding which brand of a spirit to buy, try visiting a well-stocked bar and asking the bartender to pour you a flight of his or her favorite three options. That way, you can decide if you like a particular brand before investing in a bottle. And remember that building your spirits collection is a gradual process, which helps makes the cost more manageable. Like any other collection, add to it as you discover new spirits or you decide you have a need for something specific—there's a lot of satisfaction in watching that collection expand over time.
Below are some brands we find to be economical choices that will make great additions to any home bar. Of course, these are just a small number of the many choices available, but they can serve as a useful starting point in your search. And for more on starting or expanding your dream home bar, check out the May/June 2009 cover feature, "Raising the Bar."
Gin: Beefeater, Hendrick's, Martin Miller's, Plymouth
Bourbon: Buffalo Trace, Eagle Rare 10 Yr., Evan Williams, Woodford Reserve
Rye: Jim Beam, Old Overholt, Rittenhouse 100
Vodka: Belvedere, Blue Ice, Skyy, Sobieski
White rum: Bacardi, Flor de Caña 4 Yr., Mt. Gay Eclipse
Aged rum: Appleton Estate, Bacardi 8, Flor de Caña 12 Yr.
Reposado tequila: Cazadores, Jose Cuervo Tradicional, Milagro