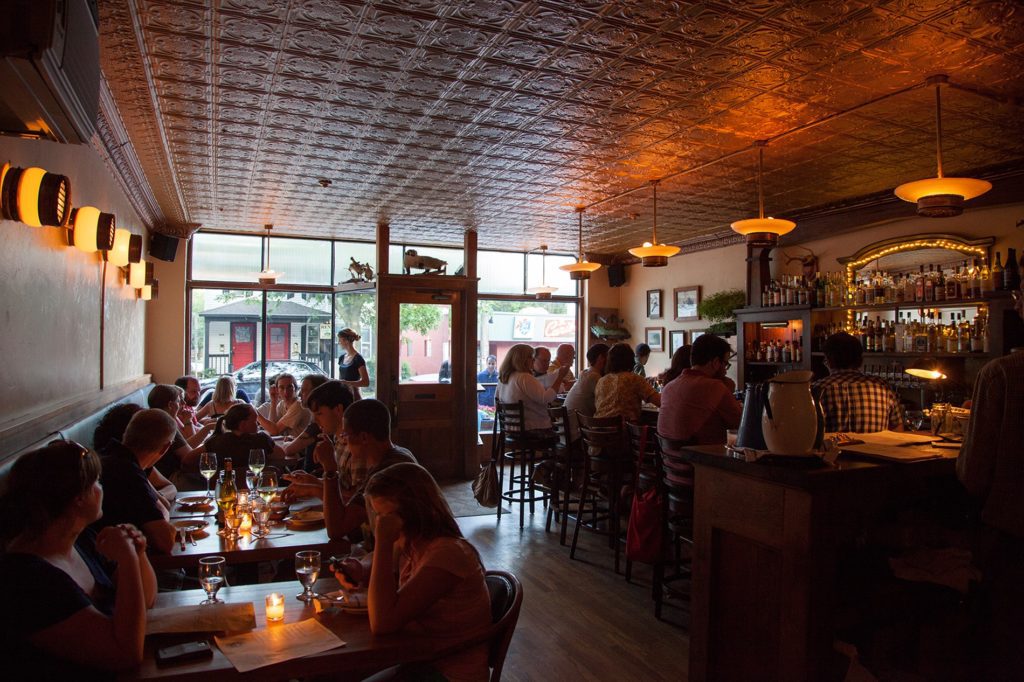 Hastings Cameron has been a fixture of Madison's bar scene for years now, previously as the brains behind Forequarter's excellent bar program and as of this summer, as co-owner of downtown's much-anticipated Imaginary Bar. Wondering where a guy like Cameron likes to hang out in his hometown? Here's his perfect day in Mad City.
9:30 a.m.: Three macchiatos and a savory crêpe at Bradbury's.
This might be the place that delivers most consistently on its premise: crêpes filled with ingredients from good purveyors, in classic combinations. Third wave coffee, with an espresso blend from Kickapoo and consistently compelling offerings from guest roasters. It's hard to overstate its place in Madison's restaurant ecosystem: enough FOH, BOH and farmers stumble through that I can't get any real work done, but I always find myself coming back to ground myself before stressful days.
11 a.m.: Planning ahead for a nightcap at Cork N' Bottle.
Browsing for booze is often more soothing than drinking it, so I like to dip into this store and wander around. Cork n' Bottle is the little neighborhood spot with the weird bottle you want hiding behind two other products, that makes sure regulars get first dibs on rare whiskey allocations, and proprietors who respond to a request for special-occasion bubbly by rummaging in the back for that last bottle of distributor-closeout no dosage champagne and hand it over while giggling: "We've been drinking it with fried chicken."
Noon: Working lunch of burger, root beer and a shot at the Caribou.
Genuine dives with wi-fi, a greasy-good bar burger and Wild Turkey 101 on the back bar are uniquely calibrated to allow me to crank through work, take discrete meetings and avoid the kind of people who might take a midday frown the wrong way.
1 p.m.: Actual lunch! A glass of wine and whatever the day's pasta special is at Osteria Papavero.
One of chef-owner Francesco Mangano's cooks once admiringly told me "Frank is cheap"—the kind of intellectually curious, whimsical "cheap" that means he'll buy a forgotten protein (like a whole ram) for his cooks to mess around with. Or, he'll obsessively wring flavor and value out of otherwise-wasted products in order to subsidize a one-off truffle menu.
3 p.m.: A Daiquiri and a Paloma at Merchant.
The most expansive bar program in the city, and a cocky, muscle-bound staff that's a joy to heckle. There's a hefty bound tome that hews toward "menu as almanac," but I mostly go here for consistent, balanced executions of classics.
4 p.m.: Two old-fashioned ham sandwiches at Heritage Tavern.
Happy hour here has solid drink offerings, but the real draw is the old-fashioned ham sandwich: house-cured heritage pork, chili aioli, pickled red onion, aged provolone. At $4 a pop, it's the best high/low-brow deal.
5 p.m.: Whiskey and antipasti at Greenbush Bar, below the Italian Workmen's Club.
At this point, it makes sense to get the metabolism going a little, and grab one of the reassuringly clunky B-cycles to head to an outpost of good drinking on Regent St., which is otherwise riddled with places that make all their money off parking lot Miller Lite beer gardens during UW football season. One of the proprietors hails from Kentucky. Naturally, this cozy red-sauce-and- pizza place is the best stealth whisk(e)y bar in the city.
7 p.m.: Cocktails then fish at Forequarter.
The current chef, Mark Schieber, is taking off for the West Coast soon, but in his tenure, some of Forequarter's most compelling dishes became clever prep and platings of regional and coastal marine life, which belies the notion that this is the showcase restaurant for a company with a huge meat processing and curing business. I'm a biased alum, but the bar program here is still the most omnivorous and progressive in town. Core staff put in hard time at an off-site prep kitchen alongside Schieber and his cooks. The result is playful drinks that have been fussed over, but arrive quickly. Waiting for a seat is hardly a chore.
8 p.m.: Japchae and a cocktail at Sol's on the Square.
Ed Hong, a friend and fellow Forequarter alum who's also popped up at Merchant and Papavero of late, is quietly helping retool the bar program here, and it's been a pleasure to watch the whiskey and cognac fiend stretch himself with soju, makgeolli and bori cha. I'd also like to steal half the dishes and repurpose them for my bar's snack menu.
10 p.m.: Affogato and grappa at Nostrano.
Pastry chef and co-owner Elizabeth Dahl's compositions are so thoughtful, I'd generally be inclined to order whatever she's just added to the menu, but the staple affogato would dovetail so tidily with a pour of Sarpa di Poli: an elevated caffè correto.
11:30 p.m.: Winding down at the Malt House; drinking through the last of Bill's Four Roses 2013 and 2014 Limited-Edition Small Batch.
This is the closest thing I have to a reliable "happy place" in town. The refurbished former Union House is an unofficial clubhouse for the Madison Homebrewers and Tasters Guild, and it's impossible not to feel like you're in the care of a fellow enthusiast when you're here. One of my most cherished nights of Madison drinking began with owner Bill Rogers eavesdropping on a conversation between a coworker and I, then interjecting that he was one of the inaugural Wisconsin members of the Four Roses Mellow Moments Club, which is basically a fan club that gets you priority when you visit the distillery, and a holiday card signed by Jim Rutledge. It's the sort of thing that would've instantly endeared the place to me if I hadn't already loved it.