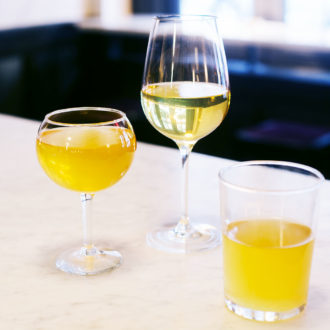 As cider continues its march towards backbar popularity, Wassail head bartender Jade Brown-Godfrey shares what she believes are the best hard ciders (and a rogue perry) to drink this fall.
Hudson Valley Farmhouse Cider Scrumpy
The only way to find a fresher-tasting cider is if you were to march straight to the orchard and pluck the apples yourself. This one from New York's Hudson Valley Farmhouse Cider is "unfiltered, fresh, and bright,"Brown-Godfrey says, and at an easygoing 4.5% ABV, it's not hard to knock back a few.
Black Duck Perry 2013
While technically not a cider (perry is made entirely of pears, while pear cider is typically apple-based cider blended with pear juice), this perry from the Finger Lakes region of New York made the cut because "it has the right amount of funk and fruit" thanks to the use of native yeast. Also present are "notes of honeysuckle and ripe Bartlett pear with a high acid finish similar to an Asturian cider,"Brown-Godfrey says.
Domaine Cecillon Divona 2013
Brown-Godfrey says she fell in love with this French beauty upon first sip. "It's a serious cider with major tannin action in the glass, but it still has a fruit-forward nose, beautiful carbonation and a hint of vanilla." Pop open a bottle before a meal to stimulate the appetite, or pair with berry dishes for a top-notch food pairing.
Isastegi Sagardo Naturala 2013
"When I'm in the mood for a high-tone, high-acid cider this is the bottle I reach for," Brown-Godfrey says. The still cider from Basque Country is a blend of over a dozen native varieties of apple and aged in oak cider barrels before bottling without filtration. It tastes slightly vinegar-like, with "notes of barnyard."
Cidrerie du Vulcain Trois Pepins 2012
Hailing from Fribourg, Switzerland, this "three seed" cider is a combination of apple, pear and quince sourced from a local orchard. A cool climate and diverse soil helps create a final flavor that she describes as "clean, tart and refreshing with a minerality that is lost on some of the funkier stuff. Ethereal and delicious."