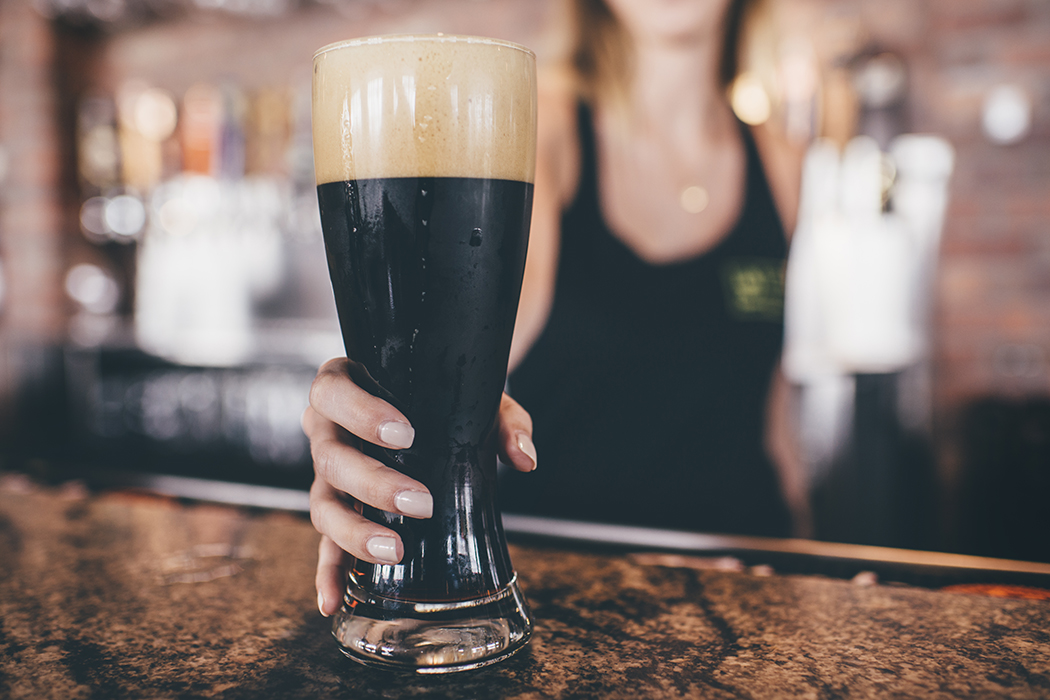 Americans love their ice-cold beers, but did you know that not all brews are best served quite so chilled? In fact, Hannah Davis, director of marketing and certified cicerone for World Of Beer, says that like red wine, some beers are best served at room and cellar temperature. Davis says that originally, ales as an entire category were served warmer because they were fermented at warmer temperatures in order to get the yeasts to activate. Subsequently, they were also stored and served warm. Then, as German brewers started using lager yeast, which is fermented at cooler temperatures, the perception of the ideal serving temperature shifted. "They took ice from the streams during the winter to keep the beer chilled," Davis says. "This created the lager phenomenon, and as many of the original American breweries were started by Germans, this style became very popular [in America]."
Now, with the explosion of beer styles and flavors, experts are starting to appreciate how serving temperatures affect different styles. Higher-ABV styles with complex flavor profiles are often best served at cellar temperature, which also tends to encourage a more subdued sipping pace. Davis also says the foam tends to be tighter and longer-lasting on a warmer beer, "so the aroma continues to last over time with all the tiny bubbles continuously popping at the top of the glass."
To get your brew to its optimum temperature, Davis recommends taking a cold bottle from the fridge and letting it rest at room temp for about 15 to 20 minutes. "You need not let it get to room temp," she says, "but it's best served anywhere from 45 to 60 degrees F." Here are five styles Davis recommends.
Belgian Dubbel
Typically landing in the 6-7.5% ABV range, this style has a "rich, complex flavor that is full of malt sweetness," Davis says. "Raisin and dark dried fruit flavors really come through at a temp of about 50 degrees Fahrenheit."
Belgian Quad
Similar to the Dubbel flavor-wise, but higher in alcohol, the Quad's strength (usually around 8-12%) is balanced by sweetness from the malts, "manifesting in a deep caramel and toasted quality to the flavor of dried black cherries and figs." Serve it as high as 60 degrees to draw out all the nuances.
Flanders Red
"Known as the "Burgundy of Belgium," this style is reminiscent of an aged red wine," Davis says. Aged in oak barrels that lend an oaky aroma and flavor, they're usually blended with younger batches to create a balanced brew. "It's got a fruitiness like plum or cherries, balanced by an acetic sourness, but if served too cold, you won't get all these flavors working in tandem, and it tends to be very one-note to the sour spectrum." I'd serve it at 50-55 degrees.
Oud Bruin
A cousin of the Flanders Red style (also originating from the Flemish region of Belgium), this sour has a sweet flavor profile with "caramel and chocolate notes making an appearance from the rich malt character," Davis says. "It's got sherry-like characteristics; I'd serve it at 50-55 degrees."
Imperial Stout
"Brewed in Britain for export in the 1700s, this beer was a hit with the Russian Imperial Court, and at 8-12% ABV, it is definitely a sipping beer." The rich, roasted malt bill used in this beer can deliver a spectrum of cocoa, coffee, burnt toast and dark caramel notes, meaning if it were served too cold, you wouldn't get any of these beautiful flavors. "It's almost like drinking a boozy espresso," says Davis. Serve at 55-60 degrees.