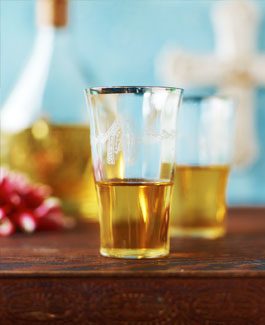 Cocktail and spirits geeks can't get enough of artisanal tequilas and mezcals, and in our January/February issue, writer Paul Clarke tastes through 16 blanco tequilas and mezcals that showcase the breadth of character this style can possess. Not wanting to stop at blancos, we recently rounded up 14 reposado and añejo tequilas and mezcals and were just as impressed by the results.
REPOSADOS
Reposado tequilas must be aged in wood barrels for more than two months, but less that 12.
Casa Noble
Aged one day shy of a full year in lightly charred, French white oak barrels, this reposado was a favorite among our tasting panel for its approachable, yet complex notes of sweetened agave, fresh lime and sea salt. Its smoky, vanilla finish makes it great for sipping.
$49, drinkupny.com
Espolon
With its squat bottle and Dia de los Muertos-inspired packaging, this tequila catches the eye, and one sniff and sip reveals cedar wood, vanilla and a hint of coconut. And at $20, it's an inexpensive tequila to have on hand.
$20, crownwineandspirits
Fortaleza
Purportedly the only tequila on the U.S. market made with 100% stone-ground agave, Fortaleza's reposado from fifth-generation tequila maker Guillermo Erickson Sauza is copper-pot-distilled and aged in used American oak barrels. The results offer sweet, coconut-y aromas, intriguing flavors of wet earth and roasted agave, and a finish that keeps on going.
$55, thewineclub.com
Ilegal Reposado Mezcal
This is among the most elegant of oak-aged mezcals we've encountered. Smoke, dried fruit, sea salt and a touch of oak make it a sipping mezcal you'll want to revisit again and again.
$70, klwines.com
Tequila Corazon
Wine lovers will swoon for the sherry-like aromas in this reposado while flavors of black pepper spice, vanilla and caramel come from its four- to six-month aging in new, charred Canadian oak. Plus, each bottle is hand-blown by artisans in Mexico.
$37, astorwines.com
Tequila Manana
This herbal, almost flinty reposado is smooth, creamy and savory. Aged for eight months in American oak, it makes a subtle, yet delicious into to the world of reposados.
$55, winedelight.com
Tequila Ocho Single-Estate 2009
The first tequila distillery to list both the year in which it was made as well as the single field from which it was produced on the bottle, this 2009 reposado from the higher-elevation Las Pomez estate offers citrus and stone aromas and bright flavors of ripe tropical fruits, lime peel, and earthy agave along with an elegant hint of smoke on the finish.
$56, dandm.com
AÑEJOS
Añejo tequilas are aged one to three years in wooden barrels.
Chinaco
The first tequila distillery located in the Tamaulipas D.O. outside of Jalisco, Chinaco is named in honor of the country's renowned fighters of the mid-19th century. This añejo is aged for 30 months in a partial mix of scotch and bourbon barrels and offers layers of depth and flavor that include cinnamon bark, tropical fruits and a touch of smoke and cedar.
$53, drinkupny.com
Corralejo
Cracked peppercorns, vanilla and honey greet you at first sip in this charred, new American oak-aged añejo. Tradition calls for standing while you drink it.
$50, napacabs.com
Corzo
On the nose, this añejo is reminiscent of a Manzanilla sherry with yeasty, salty aromas, and on the palate it takes on almost brandy-like characteristics of refined ripe fruit and flowers.
$65, wallywine.com
El Tesoro
Mouth-smackingly dry, this añejo smells and tastes like the desert floor with notes of mineral-rich earth, roasted agave and a hint of sage on the finish.
$59, melandrose.com
Herradura
Upon first sip, our tasting panel agreed that this añejo shared countless similarities to a smooth single-malt scotch. Notes of sweet butterscotch, vanilla and spice became more nuanced and complex after each taste.
$52, astorwines.com
Leyenda del Milagro
Roughly translating to the legend of miracles, this añejo is made from high-elevation, estate-grown agave and ages for 18 months in white oak barrels before taking on inviting notes of caramel, fresh herbs and woody spice.
$40, drinkupny.com
Semental
Light and approachable, this añejo goes down easy with notes of passion fruit, cedar and citrus. It's not the most nuanced of the bunch, but we still wouldn't turn down a glass.
$70, grandwinecellar.com