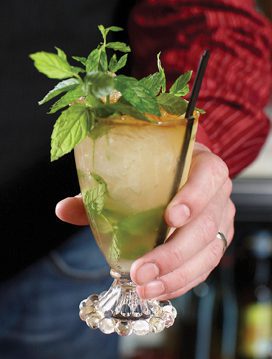 Riffing off of the classic Queen's Park Swizzle, this cocktail substitutes the traditional Angostura bitters with bold Fernet Branca.
2 oz. gold rum
1 oz. simple syrup
¾ oz. fresh lime juice
8-10 fresh mint leaves
½ oz. Fernet Branca
Crushed ice
Tools: muddler, mixing tin, swizzle stick or barspoon
Glass: highball
Garnish: mint leaf
Muddle mint, lime juice and simple syrup in the bottom of a mixing tin, then add rum. Pour into a glass and fill ¾ full with crushed ice. Swizzle, or stir, for 30 seconds. Fill glass with crushed ice and float Fernet Branca on top. Garnish with a fresh mint leaf.
Ted Kilgore, Taste Bar by Niche, St. Louis, Missouri