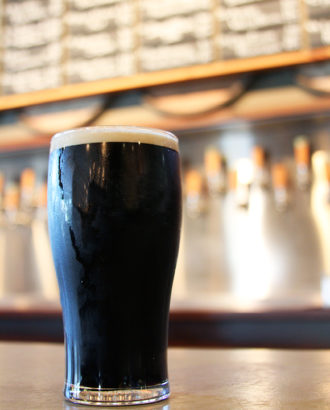 "The range of stouts being brewed in America today is diverse and reflective of the wide range of breweries producing them," says Joe Schiraldi, Left Hand Brewing's VP of brewing operations. From dry Irish stouts to bold imperial and barrel-aged styles, there's something for everyone within the stout category, but today we turn our attention to milk stout—a style that's on the rise among craft brewers. Also called "sweet stouts," the style is marked by the addition of lactose, a sugar naturally found in dairy, which lends a soft, creamy sweetness.
Left Hand Brewing's classic milk stout has been on the market since 1998, and traditional versions of the style have also been brewed by New Glarus Brewing, Three Floyds Brewing Co. and 4 Hands Brewing Co., among others. Coffee and chocolate milk stouts are popular twists on the classic style, with releases from Terrapin Beer Co., Elysian Brewing and Tallgrass Brewing Co., and Left Hand has also recently released a bittersweet chocolate milk stout, made with Allegro Coffee's Mocha Java blend. On the boozy end of the milk stout spectrum, Southern Tier, Lakewood Brewing Company and New Holland Brewing pushed the boundaries of the style by amping up the ABVs with imperial versions of the norm. 
Taking things a step beyond, some brewers are venturing even farther outside the box, experimenting with everything from gingerbread, raspberry and peanut butter to pistachio, horchata and chai tea. "Chai is generally consumed with the addition of cream or milk, so the milk stout seemed like a great style to try it with," says Black Acre Brewing Co. head of brewing operations Justin Miller. "The sweetness of the lactose also helps blend and balance the strong flavors of cardamon, black pepper and cinnamon." Meanwhile, Stone Brewing Co.'s annual Xocoveza Mocha Stout is one of the most delicious of the new-school stouts, brewed with cocoa, coffee, pasilla peppers, vanilla, cinnamon and nutmeg to evoke the flavors of Mexican hot chocolate.