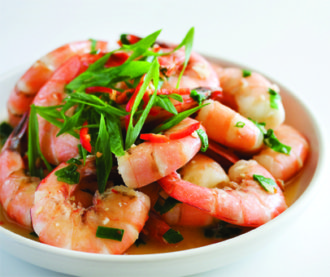 This recipe from Jaden Hair's Steamy Kitchen Cookbook was inspired by chef Martin Yan, who frequently cooks seafood with beer, which brings out the natural sweetness in shrimp.
1 Tbsp. high-heat cooking oil
3–4 cloves garlic, finely minced
1 fresh or dried chili pepper, minced
Generous pinch of salt
1 lb. raw, shell-on shrimp with tails, deveined
¼ cup pilsner-style beer
2 green onions, minced
Set a wok over medium heat. When it just starts to get hot, add the oil and swirl to coat. Add the garlic, chili pepper and salt and fry until fragrant, about 15 to 30 seconds. Add the shrimp and immediately begin tossing, using a spatula to scoop the oil  over the shrimp. Pour in beer and immediately cover. Steam for 3 to 4 minutes, until shrimp are cooked through. Toss in green onions and mix well. Serves 4.