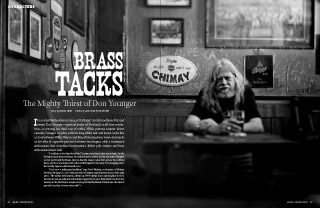 It's a rainy Wednesday morning at Portland, Ore.'s Horse Brass Pub and owner Don Younger—spiritual leader of Portland's craft beer revolution—is nursing his third cup of coffee. While patrons saunter about casually, Younger (who, with his long white hair and beard, looks like a cross between Willie Nelson and Ernest Hemingway), waves his hands as he talks, lit cigarette perched between two fingers, with a trademark enthusiasm that countless brewmasters, fellow pub owners and beer enthusiasts know well. "I could go on for days about this," he says every time I raise a new topic. On the Portland microbrew revolution he nurtured and hosted in his bar, the state of English soccer post-David Beckham, why his favorite mayor came from across the political fence, and how a horseshoe from the world's largest horse came to be hanging above the bar. My tape recorder runneth over.
"Don's just a really great publican," says Kurt Widmer, co-founder of Widmer Brothers Brewing Co., one of the pioneers of Oregon's microbrewery boom of the early 1980s. "He's always enthusiastic, always up. We've always had a special place for Don because he was an early and enthusiastic supporter of ours. I think that's true for every brewery in the Northwest, maybe even beyond the Northwest. But he's also the kind of guy who's just fun to have a beer with."
Shortly after noon, Younger is fully caffeinated and ready for a beverage change. After making subtle eye contact with the bartender, who quickly sidles over, he says mock-bashfully, "You know, after all this talking, I've worked up a mighty thirst." An amber-colored pint of beer arrives moments later without Younger even having to name his pleasure. It's Younger's Special Bitter, better known as YSB, the official house beer. Made from quintessentially English Fuggle and Golding hops, its intense hoppy flavor epitomizes Northwest-style craft beers. Younger handpicked Rogue Brewery brewmaster John Maier to brew the beer. He's quick to explain, however, that YSB isn't named after him. That honor goes to William, his late brother, who pulled Younger out of a corporate marketing job and into the bar business a generation ago.
Corporate? Marketing job? It's tough to imagine. In addition to his hippie-meets-blue-collar long hair and beard, Younger is perennially clad in jeans and a T-shirt. More important, as even friends will admit, he's kind of a crazy coot. But it was only after an ill-conceived transplant to Los Angeles (when his employer relocated its headquarters) that Younger's brother persuaded him to give it up for the bar business. "I was really a rising star, but I couldn't live down there, driving an hour each way to and from work," he recalls.
Younger and the bar business took to each other immediately. He founded the Mad Hatter tavern in southeast Portland in 1967, later Strawberry Fields in suburban Gresham, Ore., and finally the Horse Brass in '76. Along the way, he embraced not only a passion for beer itself, but also for the greater sense of community fostered by the corner bar. As with coffeehouses, bookstores and other hangouts, he sees the Horse Brass as a "third place," quoting from Ray Oldenburg's landmark 1989 book about the sociology of neighborhood culture, The Great Good Place. And tasty as an Oregon microbrew may be without stopping to ponder its larger meaning, Younger takes great satisfaction in the explosion of craft brewing being part of a larger cultural shift in which artisan-made food and drink are the pride of local communities.
That shift didn't happen overnight. When the Horse Brass first opened, the only beer on tap was Blitz, a middlebrow regional macrobrew. If customers felt particularly adventurous, they could try a bottle of Olympia, Lucky Lager, Rainier or, dare we suggest, Budweiser. The brewing styles ranged from pilsner to lager—that was it. No one had even heard of a microbrew. But the beer offerings at the Horse Brass soon changed—not just with the times, but ahead of them.
It started with imports. "I had an English bartender who always drank a Bass ale after work," Younger recalls. "He kept trying to get me to taste the Bass. I said, 'If I want a red beer, I'll pour some tomato juice in there.' But one night I tasted it, and it wasn't a learning process—it was love at first taste." Younger quickly converted from Blitz and began seeking out beers from around the world and, more important, from his own backyard.
By the early '80s, his watering hole was a regular hangout for the aspiring beer makers who would shape Portland's microbrew revolution— guys from craft breweries like Widmer, BridgePort Brewing and Full Sail Brewing (companies that now hold countless awards from prestigious international beer festivals). "The Horse Brass was a frequent destination for me," says Widmer. "And it was because he had beers there that you couldn't typically find."
"Portland Brewing? That table," Younger says proudly, pointing to a corner of the bar where the brewers used to nurse pints. "BridgePort? That one. I think the Widmer brothers were over that way. They all met here and planned and dreamed."
"He was way ahead of his time," says Maier. "He has such a wealth of knowledge, and he brings real passion. That helped so many people get into the business. He gives us brewers most of the credit, but shoot, Portland would be a different place if it weren't for Don Younger. He's an icon in my eyes."
The Horse Brass is festooned with mementos of all things British: photos of Winston Churchill, a lithograph of the HMS Birmingham, signed by its captain, and a– wood-trimmed interior you might find on Charing Cross Road or Oxford Street. The bar's aforementioned horseshoe? It was a gift from friends at Young's Brewery in England. "Biggest horse in the world," Younger insists. The Horse Brass even has a sister pub in the south London area near Wimbledon called the Princess of Wales, which Younger happened on during a tour of English pubs. Since then, numerous friendships between employees and customers of the two locales have been cultivated. "Some of them have even married each other," Younger says, eyes twinkling.
Younger has a fierce but romantic loyalty for fellow beer lovers, makers and suppliers—his people. But maybe what really sets him apart is how those loyalties extend across traditional divisions. For example, he calls himself a conservative politically, pontificating over the course of an hour (and another YSB) about smoking bans and national health insurance. But his favorite politician, former Portland mayor Bud Clark, is a tried-and-true liberal. "Because he had integrity," Younger says of his across-the-fence support for Clark. "We disagreed on how to do it, but we want the same things. I'd follow that man anywhere."
And besides, Younger reasons as he takes a final puff of his cigarette, the corner tavern is one of the last bastions where our divisions melt away with a cold beverage and a game of darts. "People marvel sometimes how you'll find professors here sitting next to ditch diggers, or rockers next to bank presidents," he says. "But that's the way bars are." And that's why he never went back to that marketing job he quit three decades ago. "I didn't see it coming," he laughs, "but I've been here ever since."
Story by Brian Libby.