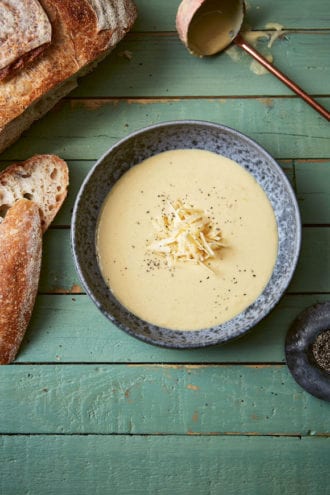 Few dishes are more comforting during the winter months than rich, creamy beer cheese soup. This recipe from beer and food writer Melissa Cole in her new book, The Beer Kitchen, uses a malty, English-style bitter and sharp cheddar cheese. Although, she suggests that as long as half of the cheese is sharp cheddar, the other half can be substituted with any melty cheese you prefer or have on hand.
3 to 4 carrots, diced
1 medium-sized leek, trimmed, washed and diced
3 to 4 celery stalks, diced
4 garlic cloves, smashed and finely chopped
24 oz. chicken stock
16 oz. English-style bitter, such as Alaskan ESB or Firestone DBA
⅓ cup butter
⅓ cup all-purpose flour
3 ¾ cups whole milk
Whole nutmeg
1 ½ lbs. strong, extra sharp cheddar, grated, plus extra to garnish
1 Tbsp. Worcestershire sauce
½ tsp. mustard powder
fine sea salt and freshly ground black pepper
hot sauce of choice or cayenne pepper, optional
Heat a large saucepan over medium heat and add the carrots, leek and celery and let them soften in their juices. Add the garlic and stir for another minute or so. Deglaze the pan with the chicken stock, then remove from the heat. Allow it to settle to a simmer then add the beer. Return the pan to the heat and simmer gently for 8–10 minutes, until the vegetables are totally tender and the beer smell has settled into that fresh bread aroma. Remove from the heat, blitz until smooth and set aside. (If you want a super-silky consistency, then pass through a fine sieve and muslin.)
In another saucepan, combine the butter and flour over a low heat to make a roux. Cook for 1 minute, then gradually whisk in the milk. Bring to a boil, stirring and whisking until thickened. Add a couple of gratings of fresh nutmeg and then slowly whisk in the beer mixture until it's completely combined. Slowly add the cheese, stirring until the mixture is smooth and well combined.
In a small bowl, whisk together the Worcestershire sauce and mustard powder. Pour into the soup and whisk. Add a hit of hot sauce or cayenne pepper, if desired. Taste for seasoning, then ladle into soup bowls. Just before serving, sprinkle on some grated cheese and black pepper and serve with bread. Serves 4.
Recipe reprinted with permission from The Beer Kitchen by Melissa Cole, published by Hardie Grant Books, October 2018.
---
Did you enjoy this recipe? Sign up for our newsletter and get our favorite drink recipes of the moment in your inbox every month.