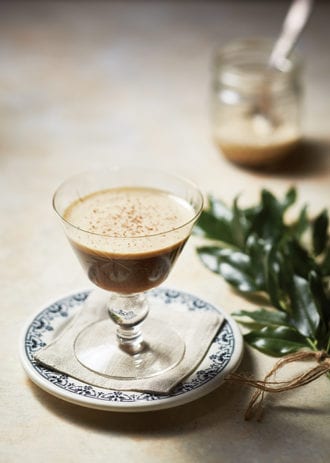 An Italian custard takes the spotlight in this winter warmer from New York City's Bar Pisellino. For the zabaione, the robust flavors of Cognac and nocino step in for the custard's typical sweet wine.
2 oz. zabaione
1 oz. Cognac
1 shot freshly brewed espresso
Tools: barspoon
Glass: cordial (6 oz.)
Garnish: dark chocolate
Pour a fresh shot of espresso into a cordial glass. Add the Cognac, then spoon warm zabaione over the surface. Garnish with grated dark chocolate.
Zabaione: In a small copper or glass mixing bowl, combine 4 medium egg yolks and 8 Tbsp. of granulated sugar and beat with an electric hand mixer until the mixture is fluffy, creamy and pale. Place the bowl over a saucepan filled with 1 inch of barely simmering water, and slowly add 4 oz. of Cognac and 2 oz. of nocino in a steady stream, whisking until smooth. Continue whisking for approximately 10 minutes, or until the zabaione is thick enough to coat the back of a spoon. Let the mixture cool, and keep it at room temperature for use. Use immediately.
Rita Sodi and Jody Williams, Bar Pisellino, New York City
---
Did you enjoy this recipe? Sign up for our newsletter and get weekly recipes and articles in your inbox.