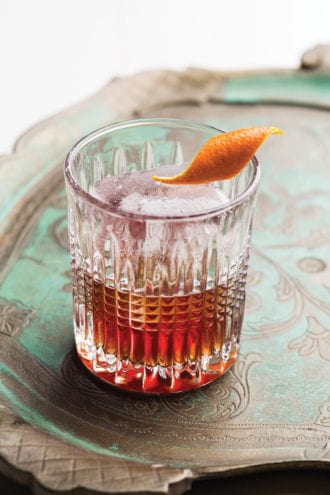 Armagnac's resonant flavors are highlighted by a syrup made with port, spices and prunes.
2 oz. Armagnac
¼ oz. port-prune syrup
6 dashes chocolate bitters (L'Oursin uses Scrappy's)
Tools: barspoon
Glass: rocks
Garnish: orange twist
Add all the ingredients to a chilled glass holding a single large ice cube, then stir to combine. Garnish.
Port-Prune Syrup: Using a kitchen knife, cut 5¼ oz. (150 grams) of prunes into quarters, then cut a small knob of ginger (about 1¾ oz., or 50 grams) into thin slices. Combine the prunes and ginger in a saucepan along with 25 grams of whole white pep-per, 3 grams of whole cloves, a small piece (about 2.5 grams) of cracked nutmeg, 2 cups of ruby port and 2 cups of white sugar. Stir frequently over medium heat until the mixture has simmered for 20 minutes. Let the syrup cool, then strain it through a fine-mesh strainer into a covered container. Store in the refrigerator for up to 1 month.
Zac Overman, L'Oursin, Seattle
---
Did you enjoy this recipe? Sign up for our newsletter and get our favorite drink recipes of the moment in your inbox every month.