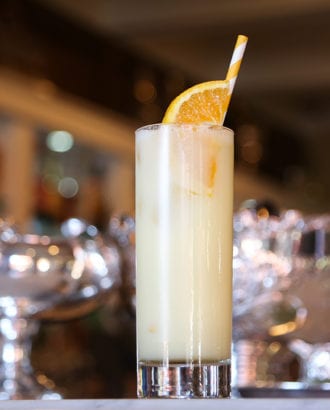 This Harvey Wallbanger riff was inspired by Cari Hah's memories of drinking Orange Julius smoothies as a kid. Galliano and genever balance out the sweetness of orange and pineapple juices beautifully.
1½ oz. Galliano Authentico
½ oz. Bols Genever
½ oz. pineapple juice
2 oz. orange juice
½ oz. half and half
1 oz. soda water
Tools: shaker, strainer
Glass: Collins
Garnish: orange slice
Combine everything except the soda water in a tin and shake with ice. In the bottom of a Collins glass, pour ½ oz. of soda water. Strain the contents of the shaker tin into the Collins glass on top of the soda and add ice to fill the glass. Top with the remaining ½ oz. soda.
Cari Hah, Big Bar, Los Angeles