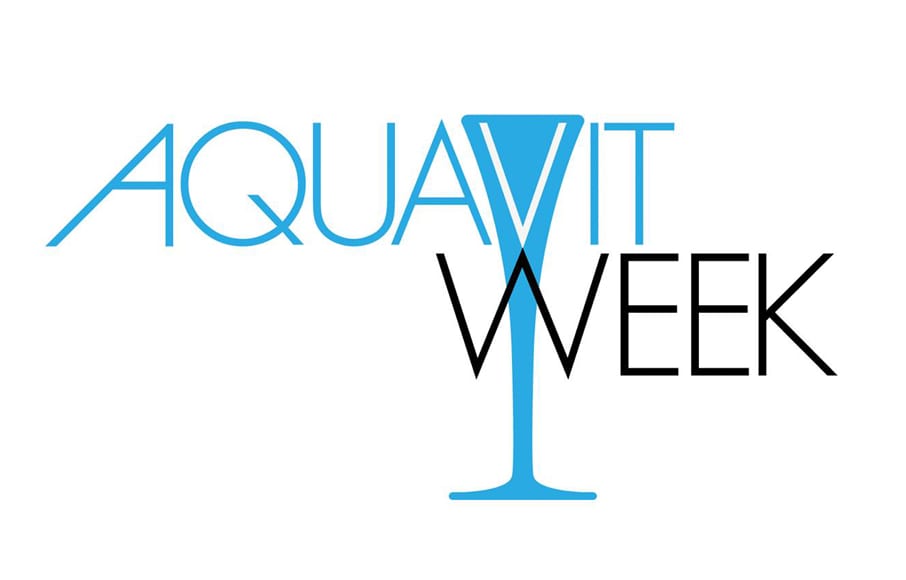 The fifth annual Aquavit Week, a week-long celebration of the signature spirit of the Nordics, returns for 2016 from December 4-10. Launched in 2012 by bartender and writer Jacob Grier, Aquavit Week aims to help build awareness of the Scandinavian spirit in bars across the United States. "I was intrigued by aquavit because it struck me as an underrated spirit that wasn't receiving much attention," says Grier. "I started the event when there were only a few distilleries producing it in the United States and hardly any brands being imported from Scandinavia. Today there are more than 40 aquavits available in the U.S., but it still remains relatively unknown by many bartenders and consumers. As Aquavit Week grows, I hope more of them will discover the spirit and the many ways it can be enjoyed neat, paired with food or beer, and in cocktails."
In addition to events in Portand, Oregon, this year's Aquavit Week will include events in New York, Chicago and Houston as well as a week-long "Snaps & Taps" beer pairing adventure, and bars from all over are invited to join the celebration by offering aquavit cocktails all week long. Additional events will be posted here. This year's featured events include:
Aquavit Week Opening Party (Dec. 4) – This ticketed event at Broder Nord in Portland, Oregon, will feature more than 10 aquavits, aquavit cocktails, light Scandinavian fare, and a true Swedish toast. Tickets are $20 per person available at the door, or reserve a spot by calling 503.282.5555.
Snaps & Taps (Dec. 4-10) – Sample aquavit and beer pairings featuring special beers from some of Portland's finest brewers at Portland's best bars. Look for beers from Breakside Brewing, Upright Brewing, The Commons, Drinking Horse, and, a special cider release from Reverend Nat's.
Nordic Flight Night (Dec. 5) – Bit House Saloon's popular Monday Night Flights take on a Scandinavian slant with a worldwide selection of aquavits. Come by all night long to try aquavits made in the Nordic countries and the U.S.
Norwegian Aquavit Tasting at The Nomad (Dec. 5) –  Lysholm Linie Aquavit, together with Leo Robitschek and Monica Berg, invites you to The Nomad Rooftop in New York City for an Aquavit Cocktail Lunch. In addition to a specially curated menu for the day, you'll have get to try a collection of carefully selected Norwegian aquavits. (By invitation only, industry event.)
Aquavit Week on the Road: New York (Dec. 6) – The Edda Bar in NYC will feature signature aquavit cocktails, 'Øl and Snaps' pairings, and more than a dozen of Edda's housemade aquavits available in flights, along with Chef Fredrik Berselius' bar menu of Nordic-inspired bites.
Norwegian Aquavit Tasting at the Long Island Bar (Dec. 6) – Join Monica Berg and Toby Cecchini at the Long Island Bar in New York for an evening of rare and unusual aquavits! You will have the opportunity to try bottlings never before seen in US and learn more about this Nordic spirit.
Aquavit Week on the Road: Chicago (Dec. 8) – Aquavit takes over the cocktail menu at Sportsman's Club for one night in Chicago. Four different local and international aquavits will feature in four different cocktails from the Sportsman's Club bartenders, and all four will be available in a flight as well.
Aquavit Week on the Road: Houston (Dec. 10) – Julep is best known for its selection of whiskey and classic cocktails with southern sensibilities, but in celebration of Aquavit Week they're taking the menu in a Nordic direction. Join us on the heated patio to explore aquavits from Norway, Iceland and the U.S., along with aquavit cocktails from the Julep bar team.
Aquavit Week Post-Party (Dec. 11) – Toast the ending Aquavit Week at Expatriate, featuring aquavit cocktails from some of Portland's most creative bartenders.