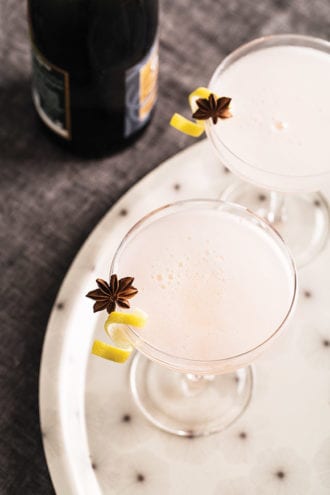 "In Scandinavia, St. Knut's Day marks the end of the Christmas season," says bartender Dave Shenaut. "Christmas Trees are taken down, and a tradition similar to trick-or-treating is observed—adults and children go door-to-door to their neighbor's homes and are invited in for festive snacks and beverages." As a nod to that tradition, Shenaut created this cocktail—perfect for ringing in the New Year.
1 oz. aquavit
½ oz. honey syrup (2:1)
¾ oz. fresh lemon juice
2 dashes Peychaud's bitters
3 oz. chilled prosecco
Tools: shaker, strainer
Glass: coupe or flute
Garnish: lemon twist, whole star anise
Combine the first 4 ingredients in a shaker. Add ice and shake well. Strain into a chilled coupe, top with prosecco, and garnish.
Dave Shenaut, Raven & Rose, Portland, Oregon. Reprinted from Cocktails for the Holidays: Festive Drinks to Celebrate the Season by the Editors of Imbibe Magazine.
---
Did you enjoy this recipe? Sign up for our newsletter and get our favorite drink recipes of the moment in your inbox every month.