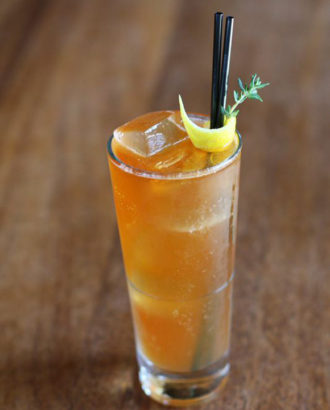 Sparkling grapefruit soda elevates and expands the bright botanical flavors in this tangy, citrusy Negroni riff from Chicago's Charles Joly.
1 ½ oz. Beefeater 24 gin
¾ oz. Aperol
¾ oz. Punt e mes
¼ oz. Lemon juice
2 oz. San Pellegroni Pompelmo Soda
Tools: mixing glass, barspoon, strainer
Glass: Collins
Garnish: orange peel, thyme sprig
Combine all ingredients except the soda in a chilled mixing glass. Stir for 12 seconds. Strain into a chilled Collins glass filled with 4 ice cubes. Garnish with orange peel expressed and placed in drink. Add thyme and 2 narrow straws.
Charles Joly for the Negroni Social