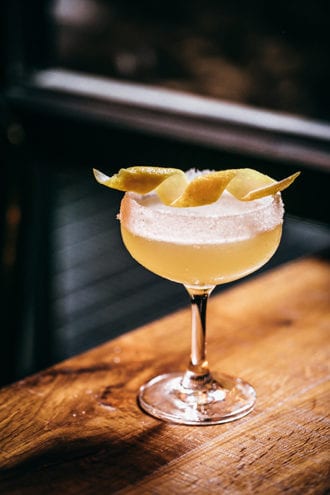 In this cocktail from Covina bartender Caleb James, the fire of bonded apple brandy is tempered by the sweetness of maraschino liqueur and Bénédictine, then brightened up with fresh citrus. "It's finished with a sugar rim and a lemon twist bridge, which inspired the name," James says.
¾ oz. apple brandy
¾ oz. Bénédictine
¾ oz. maraschino liqueur
¾ oz. fresh lime juice
1 dash saline solution
Tools: shaker, strainer
Glass: coupe
Garnish: lemon twist
Shake all of the ingredients together in a shaker tin with ice, then double strain into a chilled coupe with a sugared rim. Express lemon peel and twist to use as a garnish.
Saline Solution: Weigh 10 grams of salt (you can use table salt). Pour the salt into a graduated cylinder or volumetric flask containing about 180 ml. of water. Swirl the flask gently until the salt dissolves. Add enough water to bring the final volume up to 200 ml. Don't simply measure 200 grams of water and add the salt, because adding salt changes the final volume of solution and affects the final percentage.
Caleb James, Covina, New York City
---
Did you enjoy this recipe? Sign up for our newsletter and get our favorite drink recipes of the moment in your inbox every month.