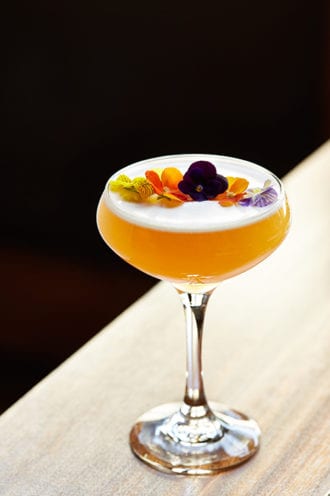 Aiming to create an elegant sparkling wine cocktail that balances tropical fruit with whiskey, Burma Club bartender Scott Wolff combines fresh pineapple and lemon with the darker notes of bourbon, amaro and bitters.
1½ oz. bourbon
1 oz. Amaro Nonino
½ oz. pineapple juice
½ oz. fresh lemon juice
½ oz. palm sugar syrup (1:1)
3 dashes Angostura bitters
5 chunks pineapple, to muddle
¾ oz. sparkling wine, to float
Tools: shaker, strainer
Glass: coupe or cocktail
Garnish: edible flowers (optional)
Muddle the pineapple in a shaker tin. Add the bourbon, amaro, pineapple, lemon juice, bitters and syrup. Add ice and shake to chill. Strain into a chilled cocktail glass and float with sparkling wine. Garnish.
Scott Wolff, Burma Club, San Francisco
---
Did you enjoy this recipe? Sign up for our newsletter and get weekly recipes and articles in your inbox.