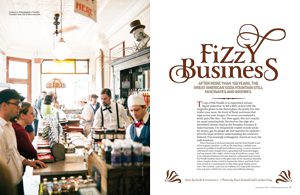 To sip a Pink Poodle is to experience serious liquid seduction: to fall a little in love with the magnolia gleam in the fluted glass, the pretty fizz that tickles your nose, the burst of floral sweetness that trips across your tongue. I've never encountered a drink quite like this—but then again, this isn't exactly my usual watering hole. Perched on the edge of a burnished chrome stool at the Brooklyn Farmacy & Soda Fountain, I've temporarily traded swizzle sticks for straws, gin for ginger ale and martinis for malteds—all in the hope of better understanding the world of a beloved, if increasingly endangered, American icon: the soda fountain.
Peter Freeman is my local soda jerk, and the Pink Poodle is one of his original creations—a riff on the soda float, carefully composed of a puddle of small-batch hibiscus syrup, a coarse stream of carbonated water straight from a gleaming wall-mounted spigot, and top-hatted with a tight, white scoop of vanilla ice cream. And in its restrained balance of sweet and tart, carbonated and creamy, the Poodle harkens back to the glory days of the American fountain, when complex drinks rooted in botanicals, bitters and fresh fruits were served as a counterpoint to that other great Yankee invention—the cocktail—and seen as emblems of a soda jerk's inventiveness, not just a vehicle for corn syrup and artificial coloring.
The building where we're sitting, on a quiet corner on the fringes of brownstone Brooklyn, has housed a drugstore continuously since 1890—though this incarnation was christened only last summer, after a complete restoration during which Freeman and his big sister, Gia, unearthed more than five decades of pharmaceutical flotsam and jetsam. (Think hand-laid mosaic tile, turn-of-the-century pressed tin ceilings, antique apothecary jars, yards of polished shoe box-sized oak drawers, and an oversized enamel scale that pinpoints your weight and horoscope for 5 cents.)
Becoming a soda jerk at age 33 hadn't always been part of his plan, but Freeman has taken to the role with passion and more than a soupçon of mad-scientist flair, tinkering with recipes (next up: the hybrid soda/shake!), schooling kindergartners in the art of the Brooklyn egg cream (Fox's U-Bet syrup, please!), stocking the bar with period glassware, scouring old pharmacy manuals for inspiration, and hunting for local ingredients, like Adirondack ice cream and all-natural P&H syrups, to spotlight in the shop. And happily, the community has responded to him—and his anachronistic concoctions—with equal enthusiasm. "Families come in, sit at the counter and know your name. And it does make you feel like you're serving a purpose," he says, flashing a sideways grin. "I don't know when this kind of place became old school. It just seems like the way things should be."
Bubbly Beginnings
Old school, indeed. While for some people the phrase "soda fountain" may conjure up a mid-century malt shop tableaux—part Archie comic, part Happy Days—the roots of the American soda fountain run much deeper, and much darker. Carbonated water has been prized for its curative properties for millennia, but commercial fountains, which claimed to artificially reproduce the benefits of spring waters, didn't become widespread until the first quarter of the 19th century—and then were marketed primarily for their medicinal, not pleasure-giving properties. (In fact, it was because of soda water's perceived therapeutic benefits that drugstores became the main stage upon which the development of the fountain played out.)
It would be almost impossible to overstate the popularity of the soda fountain during its turn-of-the-century heyday: by the end of the 1800s, most U.S. towns contained at least one soda fountain (New York City alone is estimated to have had more than 670), and by 1920 their ranks had swelled well upwards of 125,000. Along the way, the forces of competition and fashion utterly transformed what began as a utilitarian apparatus—a plain gooseneck pump that dispensed CO2-infused water—into an ostentatious art form. In hopes of attracting customers, pharmacists invested in extravagant fountains, some costing north of $50,000, standing more than six feet tall and stretching the length of a wall. John Matthews, the British-born inventor whose company came to dominate fountain manufacturing in the mid-1800s (earning him the nickname "Neptune of the trade") offered a catalog featuring hundreds of options for shopkeepers to choose from, including models wrought from steel, copper and bronze, trimmed with gold gilt and six different kinds of marble, punctuated by leaded glass Tiffany lamps, beveled mirrors, peaked and dormered roofs and bas-relief backsplashes depicting gods and goddesses, waterfalls and nymphs. At the same time, savvy pharmacists began to realize that just as they could spiff up their fountains with stained glass, they could set their drinks apart by dressing up plain soda with a spritz of flavored syrup, a spoonful of fruit, or a dose of bitters. Owners guarded the proprietary recipes for their popular drinks fiercely to keep patrons coming back.
Of course, creating a craving for your fountain's drinks was fairly simple if you had addictive drugs at your disposal. And indeed, in the early, unregulated days of the soda trade, pharmacists—who were schooled in chemistry, after all—drew upon a shocking roster of additives and ingredients while composing their recipes, including strychnine, radium, morphine, heroin, cannabis and cocaine, not to mention a hefty dose of booze. What's more, because such "tonics" were untaxed, they could be sold for much cheaper than a jigger of gin. Naturally, as temperance reform gathered speed, soda fountains became the preferred refuge of folks looking for a fix without the stigma of the saloon. (Or, as the Brooklyn Daily Eagle put it in February 1886: "In Disguise! Drug Store Beverages … The Safe Haven of the Belated Tippler and Thirsty Early Riser on Sunday … Respectability Cloaking its Weakness with the Foam of Soda …!")
The Sweet Science
The link between the soda fountain and the bar didn't end with intoxicants: in their roles behind the counter as well as in their arsenal of tools—ice picks, citrus reamers, shakers, strainers, corkscrews and straws—soda jerks were close kin to bartenders. In fact, when the passage of Prohibition put scores of bartenders out of work, many transitioned into positions behind the pharmacy pumps. "When I started reading up on it, I was really surprised by the creativity and complex techniques used by the people who ran fountains," says Darcy O'Neil, the bartender and blogger behind the popular spirits website Art of Drink.
Indeed, for O'Neil, what began strictly as idle curiosity about the class of fountain drinks known as "phosphates" snowballed into a full-blown fascination with the soda fountain once he realized he'd stumbled on a rich and largely unexplored bit of liquid history. Now, in a volume titled Fix The Pumps, O'Neil has published the results of that research, along with an intriguing collection of recipes for acid phosphates, lactarts, hot fizzes, nogs, bracers and scads of other nearly-lost-to-time concoctions culled from vintage beverage manuals like The Dispenser's Formulary, circa 1915. (Note: The entire text of The Dispenser's Formulary is also available on Google Books—and is a surefire way to fritter away an afternoon.) Next to a root beer float or a chocolate shake, the terms lactart and phosphate may not sound familiar—let alone appealing—to
today's soda drinkers. But as O'Neil explains, tart acid-based beverages like cherry phosphates and cranberry lactarts were a wildly popular subset of fountain menus well into the 20th century. Made with phosphoric acid, phosphate salts and lactic acid (which had the benefit of being both more neutral tasting and less perishable than natural citric acids), they were first marketed as tonics with powers to boost the libido and strengthen the nervous system—though consumers soon sought them out primarily for their power to refresh.
The rise of mass-marketed bottled pop and the declining numbers of soda fountains in the 1950s and '60s eventually put phosphates and lactarts on the endangered species list—but if O'Neil has a say in the matter, they may soon enjoy a revival. In fact, after growing frustrated trying to source such old fountain ingredients, he decided to draw upon his training as a chemist and manufacture his own. Now, operating under the moniker Extinct Chemical Company, O'Neil sells his mixtures to curious drink tinkerers all over the country, including Eben Freeman, the cocktail mastermind and director of bar operations for the Altamarea restaurant group in New York. "It's exciting—lactart seems to boost a drink, bringing out the character and flavors the way salt can in food," says Freeman.
Inspired, he now offers diners at Ai Fiori an aperitif combining lactart, absinthe, saffron-infused gin and dry vermouth, topped off with a spritz of tart Lurisia Gazzosa Italian soda. So far the reviews have been overwhelmingly positive. "They're just really versatile ingredients," O'Neil says of the acids. They're simple ones too—one of O'Neil's preferred preparations, the Angostura Phosphate, calls for bitters, lemon syrup, a few drops of phosphoric acid and a cold stream of soda.
Soda Survivors
If you're intent on enjoying phosphate at one of the marble counters that were once its native habitat, however, chances are you'll have to do some searching. After World War II, America's increasingly suburban, car-obsessed culture began to abandon the local fountain for the novelty of drive-thrus and fast food chains. Anne Cooper Funderberg, author of Sundae Best: A History of Soda Fountains, estimates that by 1965, only a third of city drugstores still contained a fountain—and of those that did, many let go of their soda jerks and discarded antique gilt and marble models for automated, stainless steel, soft-drink dispensers. Today Americans consume more than 13 billion gallons of soda a year, yet by most estimates, fewer than 125 traditional soda fountains remain in the entire country.
Perhaps it's no surprise, then, that the establishments that have endured are beloved by their loyal patrons with a fierceness approaching the fanatical. For 70-plus years, patrons of the Pitt Street Pharmacy in Mt. Pleasant, South Carolina, have been ordering pimento cheese sandwiches along with their vanilla malts. Since 1899, the fountain at Watson Drugs in Orange, California, has been a civic landmark. Fountain lovers still lament the passage of the once-great Jahn's empire in New York City (now dwindled to a single location in Jackson Heights, Queens). At Zaharakos in Columbus, Indiana, the jaw-dropping gilded age décor and onyx fountain (not to mention its famous Green River float) draws tourists to this day. At Lagomarcino's in Moline, Illinois, the fourth generation of that clan still prepares candies and sodas in a shop featuring original Tiffany lamps and Rock Island terrazzo floors. Regulars can still run a tab at Nau's Enfield Drug in Austin, Texas. At Miller's Pharmacy in Cooper, Texas, outside Dallas, the fourth generation of Millers still serves a chocolate soda named after former governor Ann Richards, and a quarter will buy you five songs on the jukebox; and in east Texas, at San Augustine Drug, the signature drink is the grapefruit highball, a secret recipe invented there in 1928 and passed down from soda jerk to soda jerk ever since.
For most surviving fountains, the business is simply in the blood. For instance, Ray Klavon's grandparents, James and Mary, opened their eponymous pharmacy and fountain two blocks from the Allegheny River in Pittsburgh in 1923. They raised kids and grandkids there, survived wars, floods, and the flight of industry from their city before closing the doors in 1979 following James' death. By then, Ray was living in the apartment upstairs. "The entire place was installed by the Knight Company in 1923, complete with the solid marble fountain, art deco chandeliers and 10 counter stools in the shape of bottle caps. There were just so many beautiful things in the store and so many memories, none of us wanted to touch it, and we didn't dare rent it out," he says. Instead, they boarded it up and Ray bided his time until, when he retired from his career as an elementary-art teacher in the late '80s, he could pick up where his family had left off.
Now, joined by his siblings, Ray mans the shop with pride and maintains the homemade touches Klavon's customers have come to expect over the decades, like floats heaped with fresh whipped cream in flavors rotated according to the seasons (amaretto in fall, peach in summer, vanilla anytime), meticulously layered banana splits and real phosphates, prepared with syrup, soda, and an ancient cache of acid phosphate kept in a medicine dropper behind the counter.
Ray is frank about the very non-Norman Rockwell realities of running such a business ("I couldn't make a living at it") but chooses not to dwell on them. "A man came in a while back, gestured to one of the booths over on the wall, and told me 'During the war my girlfriend would sneak down here and have a soda with me because her parents wouldn't let me go to the house. Now we've been married 65 years.' " There's a smile in his voice. "I know kids and teenagers have seen this kind of place in movies, but it feels good to be able to still be here and still be the real thing. This is our history."
Jack Lerner agrees. By way of explaining the enduring appeal of Model Pharmacy, the soda fountain and pharmacy he's owned for more than 25 years in Albuquerque, New Mexico, he simply says: "Old folks come in and they're happy to see something they thought they'd lost, and young people come in and just see something different, something they like." Lerner, a second-generation pharmacist and native of Birmingham, Alabama, has been in New Mexico since the early 1970s, when what began as a stop-over during a cross-country motorcycle trip turned permanent. New to town, he befriended the Model's original owner, an aging local pharmacist named Delbert Swindle, and in 1974, when Swindle expressed interest in selling the store, Lerner took it off his hands.
The low-slung adobe building, topped with a playful cursive pink and blue neon sign, is now a bona fide landmark. Yes, there have been some rough patches—like when a sprawling Walgreens first opened across the street—but, with his soft drawl, Lerner doesn't sound much troubled. "I had no clue how to be a soda jerk when I started, but it's been a good run. And as far as the big chains go, I figure we have much better egg creams and tuna sandwiches than they do," he says with a chuckle. If there's a secret to his success, he'd swear its reliability: "I'm a stickler for consistency," Lerner laughs. "The sandwiches we serve are made with my mother's Passover bris
ket recipe; the milkshakes and floats and sodas are measured precisely, and we always use fresh ingredients. I don't like surprises. It's got to be all the same, all the time!"
Some call it consistency, some call it tradition. At Crown Candy Kitchen, in a brick storefront on a corner of northern St. Louis, Missouri, that seems frozen in time, the Karandzieff family, immigrants from Macedonia, have been turning out the same handmade confections and premium fountain creations since before the Wilson administration. Even the menu remains largely original, leaning heavily on malts and ice-cream sodas in flavors—like pineapple and maple—that peaked in popularity between the wars. But customers keep coming back because they know what they like, and they also know that year after year, there are fewer places to find it.
Back to the Future
But can an industry that's so defined by the past have an innovative future? For Eric and Ryan Berley, the brothers behind Franklin Fountain—a meticulously rebuilt turn-of-the-century fountain whose opening in 2004 in Philadelphia was greeted excitedly by locals and food cognoscenti as the start of a new age for the American soda shop—that's a question that must be asked and answered everyday. The Berley's take authenticity seriously: behind the counter of Franklin Fountain, the jerks sport crisp, white period clothes and the menu is free of any flavors that wouldn't appeal to an Edwardian. (You heard right: no cookie dough.)
"We were pretty surprised when we started looking into old fountain recipes to see how dramatically tastes changed over time, how popular raw egg drinks used to be, and how little people seemed to care about chocolate," admits Eric. "People in the industry definitely thought we were crazy to be so faithful to the past."
Still, the brothers Berley like to think of their approach as an homage to the golden era of the soda fountain, not a performance piece. As such, some allowances have been made: on the menu, exotic offerings, like the Japanese Thirst Killer Phosphate—a vintage blended soda of orgeat and grape syrups, Angostura bitters, and phosphate—are balanced by more approachable options, like the Cherry Bomb, a scoop of homemade chocolate ice cream floated in a flute of cherry soda. "At the end of the day, we're just regular people, trying to run a business and make a good product right now," says Ryan.
Indeed, in the end, the survival of the American soda fountain might balance on an idea as simple as that: demand for a quality product. After all, over the last decade, bartenders, writers and tinkerers like O'Neil have witnessed another remarkable renaissance: the resurrection and celebration of that other great American art form, the cocktail. Drinkers who once settled for Seagram's and Sprite now brew their own bitters and barrel-age Negronis. Shouldn't it stand to reason that eventually they'll insist on better sodas, too?
Until then, Ray Klavon and Jack Lerner and their countless anonymous compatriots will carry the torch. Ambassadors of deliciousness, repositories of history, and touchstones of their community, we're lucky to still have them. Or, as Anna, Peter Freeman's mother sums up so well: "Some moms say, 'Look at my son the lawyer, my son the doctor,' but I'm so proud to say 'my son, the jerk.' "