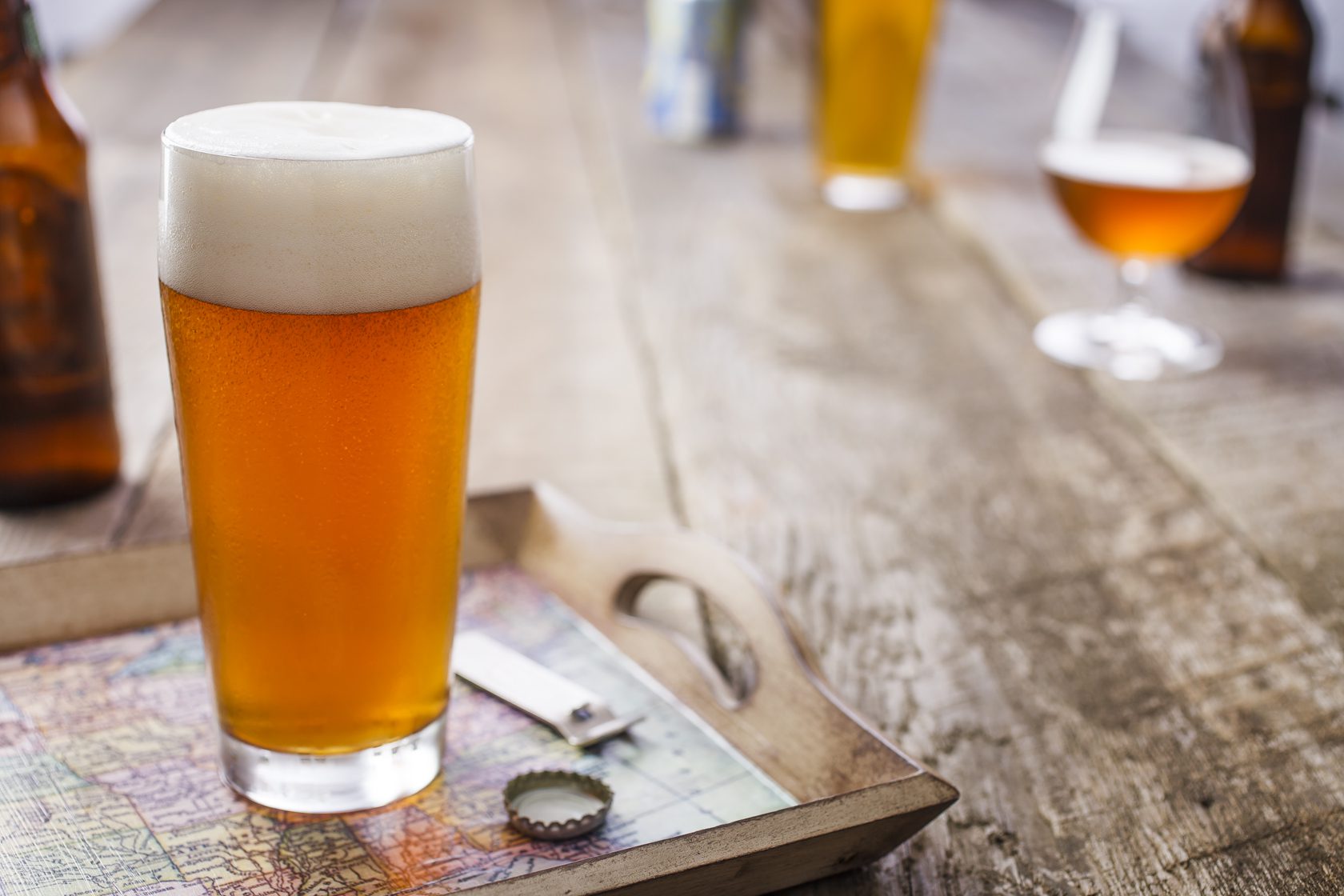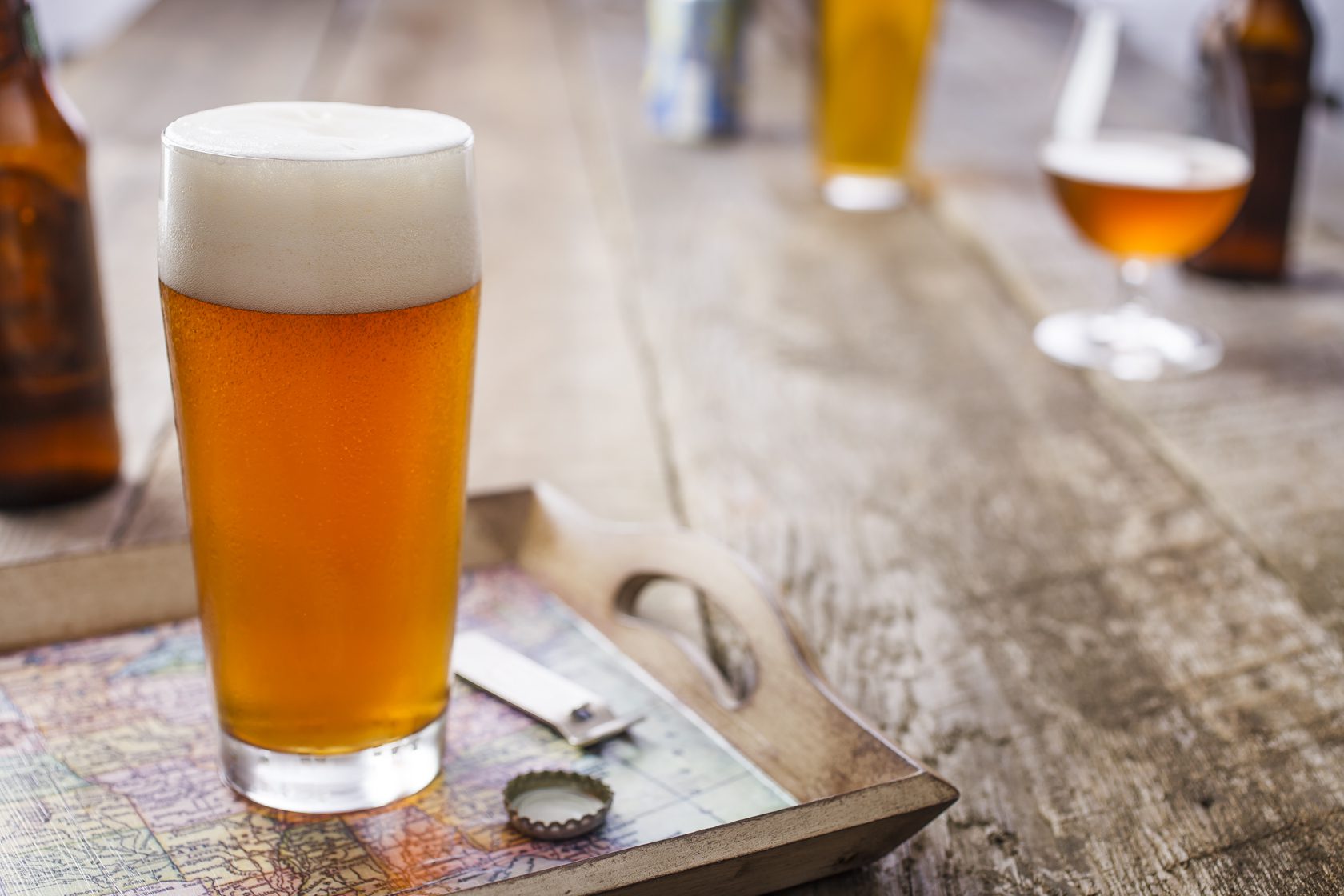 In our Sept/Oct 2013 issue, Imbibe contributor Joshua Bernstein paints an epic picture of craft beer in the U.S. right now with his state-by-state beer guide. This is an incredible time for craft beer in America, with an ever-growing cadre of breweries making amazing beers in every state of the union. Here, along with Bernstein's, we explore a few uniquely American beer styles, methods and ingredients that have emerged out of the U.S.'s impressively prolific craft beer movement.
Cream Ale
We took a look at the evolution of cream ales in our May/June 2013 issue, and they are at the top of our all-American beers list. Along with the "California Common" steam beers (see below), it's one of only two, truly home-grown styles of beer. Characterized by a relatively cool fermentation process and crisp, clean flavors that are reminiscent of a pale lager, cream ales have grown in popularity in recent years as breweries like Brooklyn's Sixpoint and Oregon's Pelican have chosen the style for their flagship brews.
What to Try:
New Glarus Spotted Cow
Pelican Kiwanda Cream Ale
Full Steam El Toro
Sixpoint Sweet Action
Steam Beer
Also known as California Common, steam beer has its roots in the gold rush of the mid-19th century. East Coast brewers chased the gold-hungry prospectors westward to the Golden State, figuring they'd be pretty thirsty after long days of treasure hunting. They weren't wrong about that, however, they were incorrect in assuming that the same yeasts that they brewed with in the cold Northeast would work in California's sunnier climes. Luckily for us, and for those parched gold diggers, the brewers successfully experimented with other yeasts. They discovered that if they cooled the boiling beer base on the roof of their breweries where the Pacific Ocean breezes blew, these yeasts could thrive and produce a delicious beer, known today as steam beer because of its propensity to, as Bernstein describes in his Complete Beer Course book, to "spray like Champagne when a keg was tapped." Does that make Anchor Steam the true Champagne of beers? Decide for yourself!
What to Try:
Anchor Steam Beer
Peekskill Hop Common
Cascadian Dark Ale
Also known as black IPA (aka India black ale), this horse of many colors has been making waves in the brewing community since 2010. Like the name suggests, this beer style has its roots in the Pacific Northwest and carries the distinct aroma of Northwest hop varieties (although other varieties may be used), which lend pine resin, citrus and coffee notes. CDAs are pitch black in appearance, but they're not at all heavy in body, with the weight of an IPA. Though the origins are much debated, beer geeks can agree that the many delicious expressions of this hybrid are not to be missed.
What to Try:
Stone Sublimely Self-Righteous
Victory Yakima Glory
Firestone Wookey Jack
White IPA
Like the Cascadian Dark, white IPAs represent a relatively new hybrid style of beer, credited in most circles to Bend, Oregon-based Deschutes Brewery and its Chainbreaker White IPA. First released in May of 2011, Chainbreaker combines the floral zippiness of an IPA with the epic drinkability of a great, cloudy-white wit beer, making it the ultimate summer beer. Just add sun and a lounge chair by the pool.
What to Try:
Deschutes Chainbreaker White IPA
Blue Point White IPA
Anchorage Galaxy White IPA
Double IPA
In his book, The Complete Beer Course, Bernstein describes double IPAs as "an IPA on steroids," meaning brewers add even more hops then they typically would to an already hop-driven IPA. The catch with this style is that more hops leads to more bitterness, which requires a fair amount of malty sweetness to balance things out. The result? A higher-alcohol beer that can, in the wrong hands, be undrinkable. However, when a brewer successfully brews a double IPA, greatness can happen. Russian River Brewing Company's Pliny the Elder is the classic example, but others are popping up all over the country.
What to Try:
Russian River Pliny the Elder
Alchemist Heady Topper
Bell's HopSlam
Florida Weisse
Over the last four years, the Florida craft beer scene has leapt from zilch to one that births its very own unique style, thanks in large part to passionate homebrewers turned commercial brewers like Jonathan Wakefield, the man behind J. Wakefield Brewing, which is due to open in December of 2013. Thanks to collaboration with Tampa's Cigar City Brewing, Wakefield's Berliner-style fruit beers—a style recently christened "Florida Weisse"—have already achieved a cult following on ratebeer.com, in particular for his very tart, dragon-and-passion fruit-based Berliner Weisse. As of now, it's nearly impossible to taste a Florida Weisse outside of the Sunshine State, but stay tuned—this burgeoning style on the cusp of greatness.
What to Try:
Funky Buddha Brewery
TAGS: {cptags}