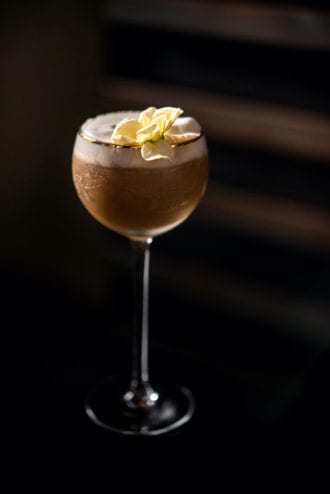 At Quaintrelle, bar manager Camille Cavan perfects the dessert cocktail with her âme sœur. In the drink, the herbal notes of Chartreuse merge with a Sicilian amaro and coffee, and it's all topped with a decadent vanilla cream.
1¼ oz. cold-brew coffee
1 oz. green Chartreuse
1 oz. coconut milk
1 oz. coffee liqueur
¾ oz. Amaro dell'Etna
Heavy vanilla cream, to top
Tools: shaker, fine strainer
Glass: coupe
Garnish: edible flower (optional)
Add the first 5 ingredients to an ice-filled shaker and shake until chilled. Fine strain into a glass then top with heavy vanilla cream and, if using, garnish with a flower.
Heavy Vanilla Cream: In a cocktail shaker, add 1 cup of heavy whipping cream, 1 oz. of vanilla bean paste, ½ cup of simple syrup (1:1) and shake vigorously until thick. Keep refrigerated for up to 5 days.
Camille Cavan, Quaintrelle, Portland, Oregon
---
Did you enjoy this recipe? Sign up for our newsletter and get weekly recipes and articles in your inbox.