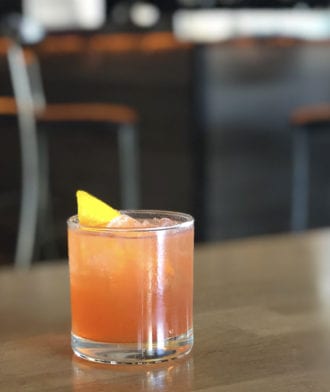 A sweet and smoky pineapple shrub pairs beautifully with tequila and Campari in this cocktail from The Gladly in Phoenix, Arizona.
1¾ oz. Azuñia Blanco Organic Tequila
½ oz. Campari
¾ oz. hickory smoked pineapple shrub
½ oz. fresh lime juice
¼ oz. simple syrup (1:1)
Tools: shaker, strainer
Glass: Old Fashioned
Garnish: orange peel
Shake all of the ingredients with ice, then strain over fresh ice into an Old Fashioned glass. Garnish.
Hickory Smoked Pineapple Shrub: Peel, core and cube 1 whole pineapple. Grab two hotel pans, one large and one smaller and perforated. In the large hotel pan put 1 cup of dry hickory wood chips on direct heat. Place the pineapple in the smaller hotel pan inside the larger pan so it's not directly on the heat. Cover both pans with foil, and allow the wood chips to smoke for 10 minutes on the heat, then remove from the heat, still covered, and let it rest for 10 more minutes. In a large container, combine the smoked pineapple with 1 lb. of brown sugar and 32 oz. of apple cider vinegar. Let macerate for 24 hours in the refrigerator. Strain through a chinois into a clean bottle and keep refrigerated.
Michael Liberatore, The Gladly, Phoenix, Arizona