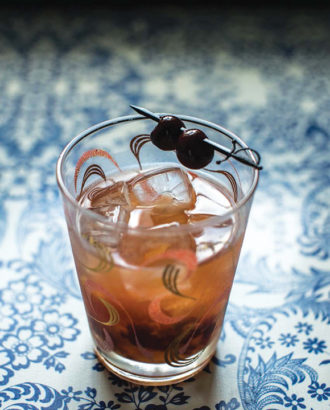 This aptly named Old Fashioned recipe by Tad Carducci comes from his time at Brooklyn's (now closed) Bar Celona. Carducci builds the drink on a base of unaged whiskey to highlight the characteristics of the raw spirit, adding tangy grapefruit and cherries for complexity. See more clever Old Fashioned riffs in this article from our January/February issue.
2 oz. white whiskey (Carducci uses Death's Door)
½ oz. simple syrup
2 dashes Angostura bitters
2 brandied cherries
1 white grapefruit wedge
Tools: muddler, mixing glass, bar spoon, strainer
Glass: Old Fashioned
Garnish: brandied cherries
Muddle 2 brandied cherries with a wedge of white grapefruit in a heavy-bottomed Old Fashioned glass. Remove the grapefruit wedge for easier drinking. In the glass, add whiskey, simple syrup, Angostura bitters and a large chunk of ice and stir to chill. Garnish.
This recipe is featured in Robert Simonson's The Old-Fashioned, published by Ten Speed Press, an imprint of Random House LLC.