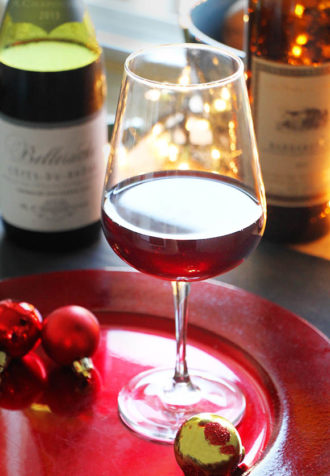 Kicking off our ongoing drink recommendations for the holiday season, we've compiled a list of 10 affordable holiday red wines that taste great and clock in at $25 or less.
14 Hands Hot To Trot Red Blend, 2012
For finicky guests, this Merlot, Syrah and Cab Sauv blend is smooth and fruity with aromas of blackberry, plum and spice. wine.com, $11
Barton & Guestier Chateau Magnol Haut Medoc, 2011
Patience is key with this subtle Left Bank Bordeaux, so make sure you decant to release flavors of dark, dried fig, date and cocoa from the delicate blend of Merlot, Cabernet Sauvignon and Cab Franc. It's gentle balance pairs well with mushroom-based dishes, goat cheese and walnuts. getwineonline.com, $18
Bedrock California Shebang Eighth Cuvée
True to the enthusiasm expressed in the exclamation point on its label, this red blend is bold and spicy with notes of dark fruit. A blend of more than half a dozen grapes, the Zinfandel base comes from the 100-plus-year-old vines at Bedrock Vineyards and makes for a supremely drinkable red perfect for pairing with hearty comfort foods. empirewine.com, $11
Bodegas Ateca Atteca, 2013
Fans of Spanish wine will find a new go-to favorite in this Garnacha from Calatayud. The fruity wine blushes with savory leather, ripe blackberry, tarragon and a pronounced gravel base, while cracked black pepper and ripe plum jam help make for a memorable finish. wine.com, $15
Castello di Neive Barbaresco 2012
100% Nebbiolo grapes compose the base of this classy Italian Barbaresco. With a bracing acidity and dense concentration of cassis, smoke and hints of sweet caramel and raisins, the tannins are even-keeled, making this a great pick for those who prefer medium-dry reds. saratogawines.com, $18
Commanderie de la Bargemone Rosé Coteaux d'Aix en Provence, 2014
Rosé may be the ultimate summer wine, but it's so food-friendly that we like it all year. This classic Provence rosé has the expected berry notes, but with a savory herb quality that deepens as it breathes. wineranger.com, $18
Left Coast Cellars Cali's Cuvée Pinot Noir
The Willamette Valley has become renowned for its Pinot Noirs, and this offering from Left Coast Cellars fits cozily into any fall menu. With spicy, autumnal aromas and savory notes of bay laurel against bright red fruit, the Cali's Cuvee could easily be the star of your intimate dinner party. wiredforwine.com, $20
Maculan Brentino Veneto, 2012
From Italy's Veneto region, this Bordeaux-style blend is half Cabernet and half Merlot, aged in a mix of French oak and stainless steel. Smoky, savory and even a bit vegetal up front, this wine benefits from time in the decanter to bring forward fruity notes like dark cherries. wine.com, $18
Perrin et Fils Côtes du Rhône Villages Rouge,  2012 
Earthy fennel and aromatic licorice lead the flavor of this muscular blend of Grenache, Syrah and Mourvèdre from the Côtes du Rhône region. Ripe cherry fleshes out the sweeter edges of the wine, ending in a robust handful of dry tannins. wine.com, $15
Vitiano Rosso, 2012
Equal parts Cabernet, Sangiovese and Merlot create this wallet-friendly, lively red. Ruby-red fruits are balanced with dry notes of tobacco and licorice, resulting in a tannin-forward bottle that—at this price—you might as well purchase by the case. wine.com, $12
Penelope Bass and Emma Janzen contributed to this story.