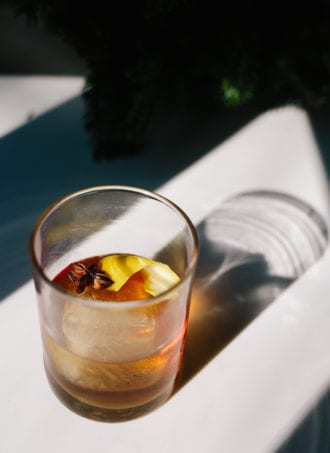 Recently, bartenders from across Charleston, South Carolina, gathered to vie for the chance to have a signature cocktail featured at the 2019 Charleston Wine + Food. Anna Lazaridis of Home Team BBQ was the ultimate standout with this wintry rye whiskey cocktail. "This is a riff of an Old Fashioned—a cocktail meant to let you settle in for an evening of hospitality," says Lazaridis. "In Italian culture, biscotti is served as a sweet handshake for your palate while you digest. With this cocktail, I incorporated the 'hello' (the Old Fashioned build) with the 'farewell' (the biscotti) into a rich, enveloping cocktail. Take a whiff, take a sip. It's a fine 'how do you do' indeed. A handshake hello and a hug goodbye."
During Charleston Wine + Food, this cocktail will be served at the festival's Opening Night Party and Hipster Cocktail Party.
2 oz. rye whiskey
¾ oz. toasted star anise–infused Faretti biscotti liqueur
¼ oz. China-China liqueur
2 dashes Fee Brothers black walnut bitters
Tools: mixing glass, barspoon, strainer
Glass: rocks
Garnish: lemon twist and 1 whole toasted star anise
Combine all the ingredients in a mixing glass with ice. Stir to chill. Strain into a rocks glass over a large ice cube. Garnish.
Infused biscotti liqueur: Toast 2 whole star anise per 8 oz. of liqueur. Add the anise to the liqueur and let sit for 24 hours. Strain out the anise.
Anna Lazaridis, Home Team BBQ, Charleston, South Carolina