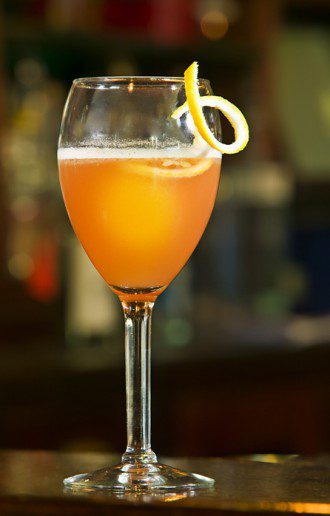 Gather some friends and give thanks for this fruit- and spice-infused cocktail—it can be served either hot or cold.
1 1/2 oz. Bourbon Thanksgiving Infusion
1 oz. fresh lemon juice
1/2 oz. maraschino liqueur
1/2 oz. demerara syrup (1:1)
Bourbon Thanksgiving Infusion: In a wide-mouthed glass jar, infuse 1-liter of high-proof bourbon (Ehrmann uses Wild Turkey 101) and 2 barspoons of cardamom seeds for 24 hours. Strain out cardamom and add 1 1/2 cups dried unsweetened cranberries and 3 whole cinnamon sticks. Let infuse for 48 hours, shaking daily. Strain into a clean glass jar and keep in a cool, dark place.
To serve cold: Combine all ingredients and shake with ice for 10 seconds. Strain into a stemmed wine glass and garnish with a lemon twist.
To serve hot: Combine all ingredients in a warmed mug and add 3 ounces boiling water. Garnish with a large piece of lemon peel.
H. Joseph Ehrmann, Elixir, San Francisco