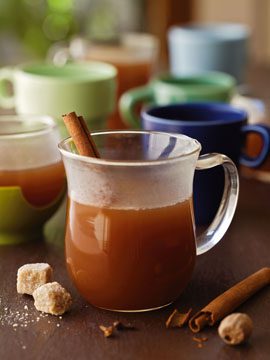 Wassail is a deeply rooted tradition in the Midwest and a popular regional staple throughout the cold-weather season. Every winter as the holidays approach, many Wisconsinites still take part in the age-old "wassailing of apple trees," a ritual dating back to the 15th century that involves sprinkling wassail on apple trees to ensure a strong, healthy harvest and to protect the trees from evil spirits. Wassail always blends apples and winter holiday spices, but the sweeteners and spirits often change from recipe to recipe. In this warming recipe, which is featured in Imbibe's book The American Cocktail, the cranberry juice is a perfectly tart counterpart to the sweetness of the apple cider and brown sugar, and the bourbon lends a full, rich quality, while the ginger, pepper and spices provide a final kick of flavor. 
12 whole cloves
6 whole allspice
1/2 inch fresh ginger root, peeled and sliced
3 cinnamon sticks
12 whole white peppercorns
1 gallon fresh apple cider
6 oz. cranberry juice
3/4 cup light brown sugar, packed
1 oz. bourbon per drink
Tools: cheesecloth, kitchen string
Glasses: mugs
Garnish: ground nutmeg and 1 cinnamon stick per drink
To make the wassail: Wrap the cloves, allspice, ginger, cinnamon sticks, and peppercorns in cheesecloth and tie with kitchen string. In a large pot, heat the cider, cranberry juice, brown sugar, and spice bag. Bring to a boil, then reduce heat and simmer 30 minutes.
To make the drink: Add the bourbon to a mug and fill with hot Wassail. Garnish with a dusting of the nutmeg and the cinnamon stick.
Serves 10 to 12.
Julie Phillips, Rittenhouse Inn, Bayfield, Wisconsin