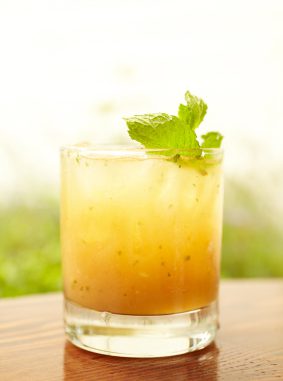 2 slices fresh peach
Handful fresh mint
1 slice fresh ginger
1 oz. simple syrup (1:1)
1 1/2 oz. fine bourbon
Splash Punt e Mes
Ginger ale
Tools: muddler
Glass: Old Fashioned
Garnish: mint sprig and ginger slice
Add ingredients in an Old Fashioned glass and muddle. Add the bourbon and Punt e Mes. Pack with large chunks of ice, top with ginger ale and garnish.
Alberta Straub, San Francisco