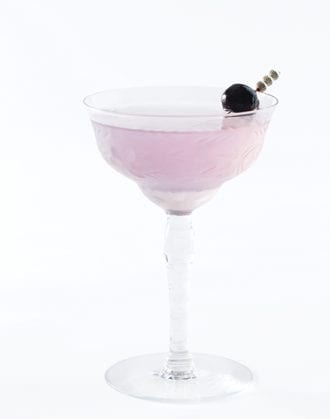 Among the cocktails on the roster of classics, the Aviation has had a bit of a bumpy ride. Its inclusion in the Savoy Cocktail Book in 1930 lent the recipe some credibility and appeal, and the drink also made appearances in Paul Harrington's 1998 book Cocktail, Dale DeGroff's The Craft of the Cocktail, and Vintage Spirits and Forgotten Cocktails by Ted Haigh.
Each of these volumes reprinted the classic Savoy recipe, which called for a three-part drink of gin, lemon juice and maraschino liqueur. But that Aviation was descended from an older recipe with a mysterious fourth ingredient—crème de violette. The floral liqueur was a key element in Hugo Ensslin's recipe from his 1916 book Recipes for Mixed Drinks, which gave the cocktail its purple sky-at-dusk hue.
But crème de violette largely disappeared from American bars decades ago—making the drink all the more appealing to intrepid bartenders. It wasn't until 2007 that a commercial version of crème de violette became available stateside again, when Haus Alpenz collaborated with Austria's Rothman & Winter to re-create and import a bottling. Ensslin's version of the Aviation began to pop up on more menus. "It was the first classic cocktail we served for our guests when we opened more than 10 years ago," says Gary Crunkleton, owner of The Crunkleton in Chapel Hill, North Carolina. "My plan was to introduce the Aviation as a classic drink that was better than what was being served at the time. I hoped guests would like it given the Cosmo's popularity."
With crème de violette now available from multiple producers, the Aviation may have lost a bit of its original mystique, but the cocktail has nonetheless secured its footing among the canon of classics.
2 oz. London dry gin
¾ oz. fresh lemon juice
1 barspoon maraschino liqueur
1 barspoon crème de violette
¼ oz. simple syrup (1:1)
Tools: shaker, strainer, fine strainer
Glass: coupe or cocktail
Garnish: Amarena or Marasca cherry
Shake all the ingredients with ice, double strain into a chilled glass, then garnish.
Gary Crunkelton, The Crunkleton, Chapel Hill, North Carolina