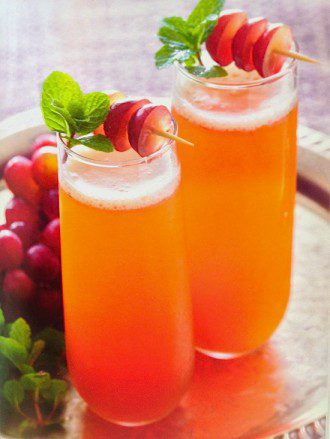 Red grapes may seem more at home in a wine glass, but we love the pop of flavor they add to this refreshing beer cocktail.
6 red grapes
10 fresh mint leaves
2 oz. vodka
3/4 oz. Aperol
3/4 oz. simple syrup (1:1)
1/2 oz. fresh lemon juice
1 1/2 oz. amber lager
Tools: mixing glass, muddler, barspoon, strainer
Glass: Collins
Garnish: red grape and fresh mint sprig
In a mixing glass, muddle the grapes and mint. Fill halfway with ice and add remaining ingredients, except beer. Stir until chilled, strain into a glass, top with beer and garnish.
Excerpted from Beer Cocktails, by Howard and Ashley Stelzer. Reprinted with permission from The Harvard Common Press.