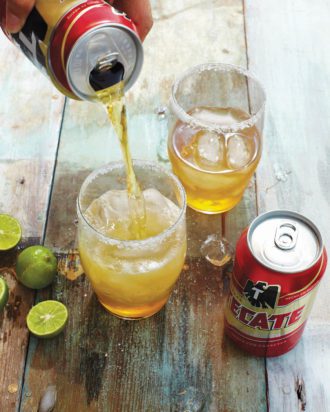 We love a good Michelada recipe, especially this one from Xochitl in Philadelphia.
12 oz. tomato juice
Juice of 6 medium limes, fresh-squeezed
6–8 dashes Tabasco sauce
2 tsp. Worcestershire sauce
Half a small onion
2 Tbsp. plus ½ tsp. pequín chile powder
¼ cup plus ½ tsp. sea salt
4 bottles or cans light Mexican beer
Tool: blender
Glass: pint, chilled
Garnish: chile-salt rim, lime wheel
Place first 5 ingredients, along with half a teaspoon of pequín chile powder and half a teaspoon of salt, into a blender and process for 1 minute or until smooth to make michelada mix. Combine the remaining chile powder with the remaining sea salt.
Rim four chilled pint glasses with the chile salt and fill with ice. Fill each glass ¼ full with michelada mix and fill the remainder with beer. Garnish with a lime wheel. Serves 4.
Sergio Ruiz, Xochitl, Philadelphia