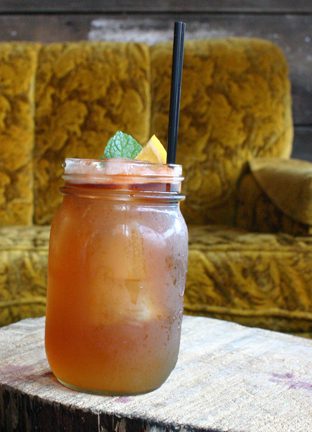 Old Tom gin takes center stage in this delicious cocktail from bartender Brandon Wise, with Fernet Branca, ginger beer and homemade peppercorn syrup adding just a hint of spice.
1 1/2 oz. Old Tom gin
1/2 oz. Fernet Branca
1 oz. fresh lime juice
1/2 oz. sage-peppercorn syrup (see below)
1 oz. ginger beer (Wise uses Reed's)
Tools: shaker, strainer
Glass: jar or tall glass
Garnish: fresh cucumber slices and 3 dashes of Fee Bros. Whiskey Barrel Aged bitters
Combine all ingredients, except ginger beer and shake. Strain over fresh ice into a jar or Collins glass and top with ginger beer. Garnish.
Sage-peppercorn syrup: In a medium saucepan, bring two cups of water to a boil. Stir in two cups of granulated cane sugar and reduce heat to medium. Add 1 tablespoon of whole black peppercorns and 6 medium-sized fresh sage leaves. Immediately remove from heat. Let syrup sit for five minutes and then strain into a clean glass jar. Will keep refrigerated for up to four weeks.
Brandon Wise for Irving Street Kitchen, Portland, Oregon