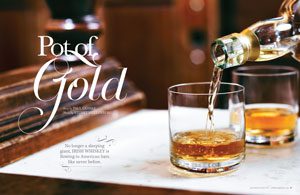 Hard-luck stories are easy to come across in bars, and if Irish whiskey's doing the talking, that story can be very rough, indeed. With a pedigree stretching back centuries and a 100-year-old feather in its cap from the last time it was a global contender, Irish whiskey has had a run of bad luck longer than most would like to remember. But luck can change, and sometimes all it takes is a little good news to put everything right.
For the agreeable spirit of Irish whiskey, recent news has been pretty much nothing but good. Irish whiskey is one of the world's most venerable spirits, and at this time last century, it was vying for the title of the world's most widely consumed liquor. By 1920, however, the fortunes of Irish whiskey were spiraling downward, with war, economics and politics contributing to its run of bad luck. Today, Irish whiskey is back on the upswing, racking up more than a 20% increase in U.S. sales last year, continuing a recent trend that's the envy of marketers of other spirits, and placing the spirit on track for a much brighter future.
The growing appeal of Irish whiskey is relatively easy to explain. "Irish whiskey is so easily drinkable and so approachable," says F. Paul Pacult, a longtime observer of the spirits industry and publisher of the Spirit Journal. Pacult says Irish whiskey offers something unique in the whiskey world: a spirit that's distinctive and complex enough to satisfy whiskey connoisseurs, yet gentle and amicable enough for a whiskey novice to get to know. "Irish whiskey is solid and well made, and it offers tremendous taste and approachability," he says. "All of those things combined make something that's very easy to like."
Irish whiskey's resurgence also means drinkers are increasingly venturing beyond familiar blends, like Jameson and Bushmills, and are exploring the spirit's full range. "Most people just know the mixed, blended whiskeys, and they associate those with taking a shot on St. Patrick's Day and chasing it with beer," says Brandon Josie, bar manager at 15 Romolo in San Francisco. Josie says the bar has seen its clientele come around to Irish whiskey over the past couple of years, gravitating from shots of tequila or bourbon to Jameson and beyond. "Now they're starting to realize that there are these craft Irish whiskeys, and peated whiskeys like Connemara," he says. "It's partly that people are just getting into whiskey, but there's also an old-fashioned charm with Ireland, and I think that's part of it."
Sláinte!
Although whiskey is made around the world, the alluring spirit traces its origins to the auld sod. Distillation may have taken place in Ireland as early as the 12th century, and even the word "whiskey" derives from the Gaelic uisce beatha, or "water of life."
Easy to make and formidably potent, early Irish whiskey was everywhere; one estimate gauges that in 1779, there were 1,200 distillers in Ireland, almost all of them unlicensed. In 1785, a tax on barley malt induced both legal and illegal distillers to include large amounts of raw, unmalted barley in their mash, a characteristic unique to Irish whiskey that remains a factor today (oats and rye also crept into the mash in large amounts, a practice that today is mostly obsolete). Irish distilling took a major blow in 1838, when Father Theobald Mathew's nascent temperance movement gained momentum, enrolling more than half the country's adult population within a few years; as a result, legal distillers consolidated into fewer, larger operations in an effort to stay in business.
Starting in the 1860s, misfortune in other parts of Europe improved the situation for Irish whiskey. Vineyards across France were devastated by a phylloxera infestation, which all but destroyed production of wine and brandy. Irish whiskey filled the spirituous void for a thirsty European public, and by 1900, it was the largest-selling spirit in England and had a robust export market in the United States.
This supremacy was short-lived. The First World War disrupted production and shipping; additional injuries came from Prohibition in the U.S., and from the Irish War of Independence (and subsequent civil war), which beginning in 1919 derailed exports of the spirit to England, leaving an opening for Scottish distillers who were only beginning to flex their marketing muscle. By the early 1960s, exports of Irish whiskey were practically nonexistent, and by the late '70s, Ireland accounted for only about 1% of the global whiskey market.
Today, Irish whiskey's fortunes seem to be changing, and bartenders such as Sean Muldoon give some of the credit to the spirit's biggest-selling brand, Jameson. Formerly the head bartender at the Merchant Hotel in Belfast, Muldoon now lives in New York City, where later this year he plans to open the Dead Rabbit Tavern, a Victorian-style bar (named for a notorious 19th-century Irish immigrant gang familiar to readers of Herbert Asbury's Gangs of New York) with a heavy emphasis on Irish whiskey.
"What Jameson has done is fantastic," Muldoon says. "It's resurrected a dying category of spirit." Muldoon says that around 10 years ago in Ireland, Jameson began promoting very simple whiskey drinks that could be replicated in any bar, in what turned out to be a successful effort to counter the growing dominance of vodka. Muldoon says a similar phenomenon is taking place in the U.S., with Jameson an increasingly popular choice for shots, especially among bartenders, a shift that's benefitting the larger category of Irish whiskey. "From what I've seen in America, Jameson is absolutely massive, and they sell tons of it in New York," Muldoon says. "It's become somehow glamorous to be drinking Jameson, and they've done what they set out to do. Now people are branching out; they're experimenting with brands like Redbreast and Midleton. Now there's a demand, and people are going back to Irish whiskey because they've rediscovered something."
Distilled Diversity
There are dozens of brands and bottlings of Irish whiskey, but currently all come from only three distilleries (Scotland, by comparison, has more than 90 operational distilleries). Bushmills in Northern Ireland traces its lineage to 1608 (the distillery was officially registered in 1784) and produces single malts and blends, including the rich and flavorful Black Bush blend. At the opposite end of the country, near Cork, the New Midleton Distillery produces Jameson, along with brands including Powers, Midleton, Redbreast, Tullamore Dew and Green Spot. The youngest distillery in the mix is Cooley, on Ireland's east coast. A former potato-alcohol plant, Cooley opened in 1989 and is the only independent, Irish-owned distillery in operation, producing exceptional whiskeys including Tyrconnell, Connemara and Michael Collins. (A fourth plant, the historic Kilbeggan Distillery—built in 1757, it holds the title of world's oldest distillery—was shuttered in 1953, but resumed production in 2007; while the whiskey is not yet available, a blended whiskey sold as Kilbeggan is produced at the Cooley Distillery.) These distilleries also make whiskeys bottled under other labels; Knappogue Castle, for example, was formerly produced at the (now defunct) B. Daly Distillery, but recent releases have been made at Bushmills and Cooley.
Laws stipulating how Irish whiskey may be made are generously all-inclusive of different recipes and distillation and aging techniques, and even rules of thumb have exceptions; the result is a category with plenty of room for creativity and expression. Most Irish whiskey is distilled three times in copper-pot stills (the exceptions are the whiskeys from Cooley, which, like most Scotch whisky, are double-distilled), which contributes to the spirit's soft, gentle flavor. Almost all Irish whiskey is made from barley; while Irish producers make rich, silky single malts, such as those from Bushmills, Michael Collins and Tyrconnell, and malt whiskey is at the core of blends from Bushmills, an important part of Irish whiskey's identity comes from single pot-still whiskeys (until recently known as "pure pot-still whiskey"), made from a mix of malted and unmalted barley. This single pot-still whiskey has a fruity, grassy character and forms the core of blends like Jameson and Powers and is bottled on its own in Redbreast and Green Spot.
Some of the most popular brands of Irish whiskey are blends of these richer-character spirits (whether single-malt or single pot-still whiskeys) mixed with lighter-character grain whiskeys, which are distilled on more modern column stills and which may be made from corn, wheat and other grains. Cooley Distillery even sells an aged single grain whiskey, Greenore, with no barley spirit in the mix.
Even though the Scottish island of Islay—the land of intensely smoky peated whiskies such as Laphroaig and Ardbeg—is only about 25 miles from northeast Ireland, Irish whiskeys typically aren't peated; exceptions include Michael Collins' 10-year-old Single Malt, which has a faint touch of smoke, and Connemara Single Malt, which is as big and burly as its Scottish brethren. As with most scotch, Irish whiskey is aged primarily in used bourbon barrels, though sherry casks, port pipes, Madeira barrels and other types of wood are increasingly being deployed to lend another layer of flavor to the finished whiskey.
These diverse approaches to Irish whiskey can be a little confusing at first, but for the consumer, it amounts to many choices. "Irish whiskey is perhaps the widest in latitude of the whiskey categories right now," says Pacult. Irish whiskey ranges in intensity from the smooth, mellow blends from Bushmills and Jameson, to more flavorfully potent spirits, such as Connemara, Redbreast, Jameson 18-year-old and Midleton Very Rare, which have fans among whiskey connoisseurs. "Whiskey veterans admire these older whiskeys from Ireland for their sheer delight and certainly for their complexity, which in some cases is massive," says Pacult.
At 15 Romolo, many guests may start with the familiar soft flavor of Jameson, but they soon move deeper into the whiskey catalogue; Josie says Knappogue Castle and Black Bush are among his favorites, along with the assertive smokiness of Connemara. For Muldoon, there's a wide gulf of difference between scotch whiskies and Irish, and the latter is more approachable to casual whiskey drinkers, even including the older, heartier whiskeys in the Irish canon. "I get a lot of peat and richness when I taste Scotch, and a lot of sweetness from American whiskey," Muldoon says. "To me, Irish whiskey is drier; it's more caramel-ey than a lot of scotch, a more rounded drink—and when you get into aged whiskeys, they're malty without being smoky or peaty, and they're very refined. An older whiskey like a 16-year Bushmills is something to sit over and enjoy."
Rainbow of Flavors
Although Irish whiskey was once widespread, the spirit seems largely to have been consumed on its own, and appears in relatively few classic cocktail recipes. Memorable classics in which Irish whiskey does appear include the Cameron's Kick, in which it's paired with blended scotch along with lemon juice and orgeat; and the Blackthorne, with vermouth and absinthe.
In preparation for an Irish whiskey–heavy menu at Dead Rabbit Tavern, Muldoon dug through numerous vintage bar guides, finding very few results. "I only came across maybe 25 Irish whiskey–based cocktails; some of them work, and others don't, and those that do are mainly Irish variations on a Manhattan," Muldoon says, noting the Tipperary, made with green Chartreuse, as one of the more appealing variations. With no deep well of classics to draw from, Muldoon is getting creative. Another drink that may be featured at Dead Rabbit Tavern is the Lamb's Wool, an original drink made with a purée of spiced, baked apple, Irish whiskey and oyster stout.
Other bartenders are similarly trying their hand at creative Irish whiskey cocktails. At Franklin Southie in Boston, the Lost Barrel matches Irish whiskey with gi
nger liqueur, lemon juice and demerara syrup, and at Dram in Brooklyn, the Hell's Ditch features both a blended Irish whiskey from Powers and the peated Connemara Single Malt, along with Bénédictine, crème de violette and the lightly bitter Cocchi Americano.
At 15 Romolo, Josie says the bartenders have been tinkering with Irish whiskey and have found how well its gentle, grain-rich flavor works with bitter herbal liqueurs and apricot and cherry liqueurs, such as in the Wilde Heart, a drink made with Black Bush, Cherry Heering and an Italian amaro that was recently featured at the bar. The classic match for Irish whiskey, of course, is a glass of beer. Over the past couple of years, however, an odd trend called the Pickleback—in which a shot of Irish whiskey is chased with a shot of pickle brine—took hold in bars in New York and quickly spread, with a special, unexpected popularity among bartenders. Muldoon says he's mystified by the whole thing, but that the Pickleback has its plus side. "I didn't get it at all, but it became kind of a cult thing," he says. "But now, Irish whiskey is getting into these bartenders' consciousness; now they're stocking Jameson 15, and talking pot-still whiskey with their customers."
From the approachable gentleness of blends to the richer character of single pot-still whiskeys, Pacult says there's a common connection. "There's this silver thread that connects all Irish whiskeys: they're all amazingly drinkable," he says. This combination of approachability and complexity makes Irish whiskey so distinctive, he says, and ultimately is the key to the spirit's renewed success. "Even the heavyweights, which are extremely complex, are very, very drinkable," he says. "There's not as huge a learning curve with Irish whiskey as there is with scotch, and at a time when younger people are becoming interested in spirits, that makes Irish whiskey very attractive. All along the journey, Irish whiskeys are always easy to drink, and they're friendly—just like the Irish."