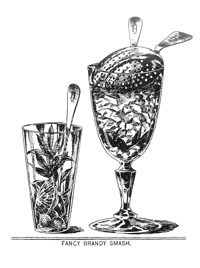 Smashes—those fruity, icy concoctions that highlight the best of the cocktail season—have been popular for over a century. But where did they originate and what's their true definition? To answer those questions, it's good to keep one constant in mind from the get-go: a smash is a julep, but a julep is not always a smash. That's probably the only hard and fast rule of the smash. As for the rest of its story—like many classic drinks—that's open to interpretation.
One of the earliest examples of a smash appears in the form of a julep recipe in Jerry Thomas' 1862 How to Mix Drinks, or, The Bon Vivant's Companion. Though Thomas doesn't mention the smash by name, though his definition of the julep clearly lays the foundation for the future of the category. He begins by calling the julep a "peculiarly American beverage" that is most popular in the South. Though he declares that a "real Mint Julep" must be made from a dozen mint leaves, a spoonful of white sugar and "equal parts peach and common brandy," topped with crushed ice, he does acknowledge that there were many versions in existence, many of them perfectly delicious.
Fastforward to 1888 and turn to barman Harry Johnson, who, unlike Thomas, addresses the smash directly as a separate cocktail from a julep. Though he's not especially wordy on the topic, Johnson does include four distinct smash recipes. His Old Style Whiskey Smash is a casual concoction of sugar, water, mint, "small pieces" of ice and one "wineglass" of whiskey (about 2 oz.). He added that to a glass with "fruits in season,", gave it a mix and served it with a julep strainer.
In contrast, his Fancy Whiskey Smash. is stirred and strained into a "fancy bar glass" and "ornamented with fruit." Johnson's Fancy Brandy Smash is nearly identical, though brandy replaces whiskey, and his Medford Rum Smash only differs from the other "fancy" smashes in that it calls for "fine ice" rather than shaved, and it's served in a sour glass rather then a "fancy bar glass."
Other than the fact that these drinks seem to have been strained before serving, Johnson's smashes resemble many of today's interpretations. Though there are often more variables these days—sometimes the ice is crushed, sometimes shaved, sometimes the fruit is added to the drink, sometimes it's just a garnish—the basic elements remain consistent: a spirit base, ice, sometimes a splash of water, mint (or other herb), sugar, and the ever-present seasonal fruit.
The smash also makes an appearance in the 1930 The Savoy Cocktail Book. Included under the umbrella of juleps, the smash is listed as a variation on the theme. The Savoy's Southern Mint Julep calls for powdered sugar, four sprigs of mint and "1 glass of bourbon, rye or Canadian Club." Directly below that recipe sits the books' tiny section on smashes, which simply, and tellingly, says: "The 'Smash' is in effect a Julep on a small plan." The accompanying recipe is indeed a sort of short julep, calling for a "small glass" and a wider array of spirit choices: "Either Bacardi Rum, Brandy, Gin, Irish Whisky or Scotch Whisky as fancy dictates."
Like many cocktails, the question of the smash's exact definition is a question of semantics. The smash is an open-ended cocktail, freely variable and seasonally flexible. There must be ice, though you may strain it out if you prefer. There should be fruit in season, though you may use it simply as a garnish. There should be a spirit base, though you may use your spirit of choice. Mint is a classic choice, though many other herbs can work. You may want to water your smash down a little or add a spritz of seltzer. At its heart, the smash is a wonderfully forgiving and flexible drink, made for hot days, for using what's on hand and for smashing it all together over ice for pure sipping bliss.
Here are a few recipes to try:
Anejo Smash
Bourbon and Peach Smash
Pepper Smash #2
Philly Smash
Ranger Smash
Rhubarb Smash
Tequila and Sage Smash