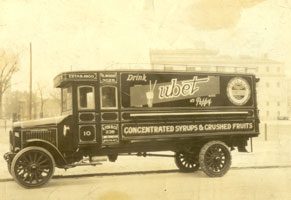 Harriet the Spy sips it while studying case files. Comedian Alan King made it as a teenage soda jerk. And Lou Reed eulogized it in song:
When I was a young man, no bigger than this
A chocolate egg cream was not to be missed
Some U-bet's chocolate syrup, seltzer water mixed with milk
You stir it up into a heady fro, tasted just like silk
You scream, I steam, we all want egg cream.
—"Egg Cream," Set the Twilight Reeling
The sweet, frothy combination of bubbly seltzer, frosty cold milk and sugary chocolate syrup explains the enduring appeal of the egg cream. But the true origin of this classic American drink remains a delicious mystery. Despite the fact that there's no egg and no cream, most New York natives have a story about the famous potable, and whether it was invented in Brooklyn or on Manhattan's Lower East Side is a source of heated debate.
The "egg cream, an eggless, creamless libation, was invented in a New York soda fountain," writes New York Cookbook author Molly O'Neill, "The annals of time have obscured inventor and the rational and philosophical underpinnings of the drink's name."
"Obscured" origins? More like too many to count.
One theory is that in the 1880s, Yiddish theater pioneer Boris Thomashevsky asked a New York City soda fountain to reproduce a drink he had discovered in Paris, but the French chocolat et crème got lost in translation. Others say the name is an Americanization of echt keem, Yiddish for "pure sweetness," and some suggest it's simply Brooklynese for "a cream."
The most common story is that sometime in the 1890s, candy shop owner Louis Auster concocted the drink by accident. It's said he sold thousands a day. But when Auster refused to sell the rights to the drink to an ice cream chain, a company executive called him an anti-Semitic slur and he vowed to take the formula to his grave. Without Auster's special syrup, other soda fountains relied on a Brooklyn original: Fox's U-bet chocolate syrup, containing water, sugar, corn sweeteners, cocoa and some "secret things."
"The egg cream," says Marty Markowitz, Brooklyn borough president and host of the 2002 Great Brooklyn Egg Cream Extravaganza, "has been Brooklyn's official elixir since the 1920s. Although it has evolved to complement the extraordinary diversity of the greatest borough in the world, Fox's U-bet chocolate syrup, milk and seltzer from the bottle hitting the spoon at just the right angle to produce a beautiful, white head will always be Brooklyn to the last sweet gulp."
To this day, the classic concoction is served at the Gem Spa newsstand in Manhattan's East Village (Second Avenue and St. Mark's Place), or often paired with the world's best tuna sandwich at Eisenberg's Sandwich Shop (Fifth Avenue at 22nd Street).
What's lies ahead for the egg cream? Ask ex-Brooklynite Adam Kurlander. In trying to make the milk-based egg cream shelf-stable, his company's R&D department invented the carbonated dairy beverage category. Founded in 1989, Egg Cream America Inc. ships about a million cases annually, including plenty of its bestseller, a no-fat, no-carb diet chocolate. The bottled egg creams are available in about 20 states, but they sell best in the greater New York area, particularly in Long Island, which, Kurlander notes, is home to many people who grew up in Brooklyn. "The drink is rooted in the ethnic Jewish community, but there was much debate as to how it was created," Kurlander says. "Now people debate whether our bottled egg creams are true to the soda fountain variety. We're the next chapter in the egg cream story."
To make your own authentic egg cream, newyorkfirst.com, purveyor of all things Big Apple-ish, sells a kit complete with a supply of Fox's U-bet. Or just follow the simple recipe from Jewish-American Kitchen: "Pour three ounces of milk in a glass, spritz in eight ounces of seltzer, spoon in two ounces of chocolate syrup and combine with vigorous wrist action."
History never tasted so sweet.