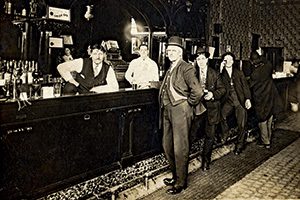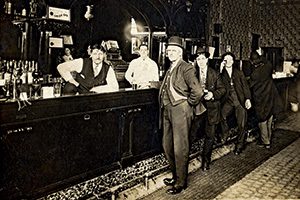 In the last decade of the 19th century, Erickson's bar of Portland, Oregon, stood out like a redwood amid shrubberies.
Located on West Burnside Street two blocks from the river, Erickson's occupied nearly an entire city block with entrances on all four sides. Inside, a monumental mahogany bar ran the length of the block-long barroom from one side to the other then back again, measuring some 684 feet when you included connecting bars.
But it wasn't just Erickson's sheer size that demanded attention. It was also its reputation as the grandest and rowdiest workingman's bar in the nation. The bar was the vision of August "Gus" Erickson, an émigré from Helsinki who opened it in the early 1880s. The place appealed to the transient workers then washing up on the banks of the Willamette River as Portland morphed from wilderness outpost to urban center. His customers included, according to various accounts, "loggers in mackinaws and corked boots," railroad construction workers, gold miners sitting out the Alaskan winter, merchant sailors, halibut fishermen, "Chinese, Malays and Mexicans," and  "drug fiends, thieves, wantons, and beachcombers."
Erickson's guests had limitless avenues by which they could get into trouble and lose a season's income in a single night. There was gambling, of course—faro, roulette, craps and poker—and a non-stop variety show filled a stage, the accompaniment provided by an extravagant $5,000 pipe organ. Those afflicted from the lingering loneliness of the logging camps could, for small remuneration, find solace in the cribs upstairs.
And, of course, one could spend money on drink. Erickson employed some 60 bartenders who worked in two shifts of at least 30. They were well tailored and instructed to always keep their hair combed and their mustaches clean. They moved oceans of beer from one side of the bar to the other, and from time to time would be called upon to quell knife fights and drunken brawls. To do so they'd form a flying "V" and charge into the crowd, laying hands on the recalcitrant and tossing him into the street, his hat spiraling out behind him.
A pint of domestic beer cost a nickel (German beer a dime), and hard liquor could be had at two glasses for a quarter. In 1926 a customer recalled "the delicious concoctions Erickson's accomplished bartenders could conjure from the mysterious looking bottles on the back bar—bottles that teased my imagination by their odd shapes, suggestive names and attractive colors." The bar served Manhattans with a "genuine maraschino cherry on a toothpick," and it was noted for its hot toddies on cold days—made in "a thin glass, delicate almost, half full of boiling water, a silver teaspoon of powdered sugar, a generous modicum of gurgling, amber colored Jamaican rum, a touch of lemon peel and the merest dash of nutmeg." It was, the customer reported, "a drink that would have thawed Paul Bunyan in the memorable winter of the blue snow!"
Ericson's heyday extended into the early decades of the 20th century. It burned in 1912, and accounts of the conflagration noted that the hundred or so boarders upstairs "were stupefied with liquor and fright, and firemen and policemen literally had to beat them into consciousness before they could be taken out." As far as I know, this is the only instance of people being beaten into consciousness, and somehow speaks to the fable-like quality of drinking at Erickson's.
The bar was rebuilt even more grandly than before, but was soon after dealt another blow from which it would not recover. In 1916 Oregon passed its own Prohibition, a sort of foretaste of the national ban three years later. Erickson's gamely struggled on as a "dry saloon," offering near-beer and soda fountain drinks. The sign in front was changed to read "Fritz's Workingman's Resort."
That was that, of course. The main room diminished over time as crowds thinned and it was divided up and let out to more viable businesses. The pipe organ was dismantled and sold, as were the ornate classical paintings that adorned the walls. The lengthy bar was whittled down until it was only a tenth of its original size. What remained of Erickson's fabled saloon eventually served as home to an advertising museum and, later, a strip joint.
Erickson's—which had managed to create the equivalent of both New Orleans' Bourbon Street and San Francisco's Barbary Coast under a single roof—defined destination drinking for the Northwest. It was a stately pleasure dome, the likes of which have not been seen before, or I'm willing to wager, will ever be seen again.