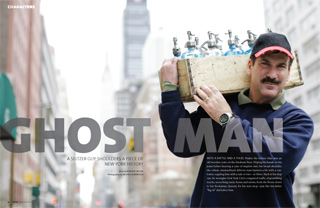 With a rattle and a thud, Walter the Seltzer Man sets an old wooden crate on the linoleum floor. Wiping his hands on his jeans before heaving a case of empties onto his broad shoulder, the robust, mustachioed delivery man banters a bit with a customer, regaling him with a tale or two—or three. Back in his step van, he wrangles New York City's congested traffic of grumbling trucks, screeching taxis, horns and sirens, from the Bronx down to Far Rockaway, Queens, for his next stop—just like his father "Big Al" did before him.
Walter Backerman, a third-generation seltzer salesman and self-described "custodian of nostalgia," proudly continues the oldest operating seltzer route, which his grandfather started in 1919 via horse and wagon. His grandfather delivered to thirsty Eastern European, Italian and Jewish immigrants. Walter's customers are foodies, chefs and television crews. He has hundreds of customers, some who remember him as a baby, and he's on a first-name basis with all of them. As the dying profession's staunch cheerleader, "Walta" is keeping the business sparkling—for now.
"I'm a ghost," Walter says, recognizing that he's one of fewer than a dozen surviving members of a dying breed. These days, he says, "The seltzer delivery man is like a mirage, so I get a lot of attention."
Unadulterated carbonated water, or seltzer, in its trademark siphon-topped glass bottles, conjures comical images of the Three Stooges wielding bottles in mock battles, like miniature fire extinguishers spouting streams of foam. The term seltzer comes from the natural mineral waters of Niederselters, Prussia, but it was 18th century Englishman Joseph Priestly who devised a method of injecting carbon dioxide into water to recreate the Prussian seltzer's tickle in the nose and bite in the back of the throat. "It's pungently pleasant," Walter says. "It hits you just right."
The bottles Walter delivers to customers weekly or monthly are antiques—26-ounce vintage siphon bottles, hand-blown in the former Czechoslovakia. The dazzling, translucent blue and green gems bear the names of defunct water companies, acid-etched into the half-inch thick glass: Louis Werber Bronx, Kossack & Schliefkin Brooklyn, American Bottling Co. Bridgeport. "People love the look of the bottle, the feel of the bottle and the action," he says of the distinctive spurt of the bottles' chrome-plated pewter spigots. The valves are engraved with the names of obsolete outfits such as Whoopee Beverages and Zarrow Bottle Works, and still release the perfect amount of gas for the refreshing, classic New York beverage. The old wooden crates hold 10 bottles and weigh up to 70 pounds.

Though he preferred sweetened soda as a kid, Walter's now a voracious seltzer sipper with a daily habit of a bottle and a half. Despite the novelty of home delivery, he believes the enduring appeal of seltzer is its taste. "Number one, we're the real thing," he insists. "The garbage in the stores isn't even on the same playing field. They're usurping the name."
Diehards praise pure seltzer because it lacks the sodium found in club soda or the indeterminate minerals of store-bought sparkling waters. A glass of naked seltzer used to be called "two cents plain" in diners and delis, boasting supposed digestive properties—most likely the belch effect. It's tough to describe the taste of true seltzer to the uninitiated. Imagine squeezing a thundercloud for chilled, crackling water, as thirst-quenching as an ice-cold beer on a hot day.
Saturday mornings, Walter buzzes into a building on Manhattan's Upper West Side to deliver to several longtime customers, including Franklin D. Roosevelt III, an economics professor at Sarah Lawrence College and the grandson of former president Franklin D. Roosevelt. "I actually don't like the taste [of regular water]. Walter's seltzer is pure and natural—it makes you feel good," Roosevelt says, drinking from a glass that's constantly filled beside his computer. "It's become an essential part of my life."
"Walter's a store of history," he adds. "I enjoy picking his brain and he enjoys talking. In this day, with everything a commodity, done more quickly and with less human contact, conversations are an important part of the social quality of life."

Just 30 years ago, 25 seltzer bottlers existed in the U.S. Today, Gomberg Seltzer Works in the Canarsie section of Brooklyn is one of only two remaining factories. Walter visits Gomberg a few times a week to have his bottles refilled. The British-made bottle filler, a circa-1910 Barnett and Foster Siphon Machine, looks a lot like a kiln. After triple-filtering pure, chilled tap water from the Catskills' reservoirs through sand, charcoal and paper to remove particles, odors and tastes, the machine uses rotating paddles to infuse carbon dioxide into the water. Cradling the siphon bottle, the apparatus forces the water through the nozzle under pressure so tiny bubbles are trapped, ensuring it won't go flat like store-bought screw-top liters.
A case of seltzer used to cost $2.50. Today, it's $2.50 a bottle. What was commonplace has little competition left, so the price adjusts to supply and demand. In 1979, when his father got emphysema, Walter lent a hand. "Weeks turned into months, then turned into years," Walter muses. "One day I dropped outta law school and the next thing ya know, I'm 54 with two sons."
Will there be a fourth generation of seltzer men? "Ahhh," Walter's 10-year-old son Joey hesitates. "I wanna be a pilot." Jonathan, 9, who, like his brother, has helped with deliveries, quickly responds, "Yeah?" But his uncommitted inflection reveals he's probably inherited his pop's salesmanship more than his all-consuming passion for seltzer.
Walter sells retired bottles on eBay to augment income and whittle away at the impressive collection of 7,000 bottles he's amassed. They can fetch up to hundreds of dollars, depending on how fancy and faceted, or if they flaunt a logo like Coca-Cola. "I've got bottles from every state in the union. What was a phenomenon in New York was also big in Chicago and Philadelphia," says Walter, who's like an encyclopedia of all things effervescent. "I sold a Nehi Soda bottle for $500, but I'll never sell my father's bottles," he says of the cobalt siphons bearing Al Backerman's label. "When my sons are my age, they'll be happy for the reminder of the legacy."
That legacy is rewarding for Walter, but operating in a nearly extinct profession can be challenging. Walter has to maintain worn, leaky bottles himself, replacing washers and glass straws from his inventory. He also tries to keep on top of e-mail correspondence with his customers—a task that wasn't part of his father's workday.
Walter's love affair with seltzer began when he started earning a dollar a day as a 10-year-old, helping his dad on deliveries. His family tried to discourage him from entering the business (they wanted him to be a lawyer, not a schlepper), never imagining the resurgence among foodies who appreciate the old-fashioned service. And it is about service, and the retro bottles—not convenience. "It's not as simple as going to the store," Walter says. "There are arrangements involved."
With the advent of disposable bottles in supermarkets, carbon dioxide in pressurized tanks and soft drink companies selling club soda, the once-thriving seltzer delivery business started going the way of typewriter repairmen, milkmen and newspaper boys. By the 1980s, designer sparkling waters had entered the market, women had long since entered the workforce—so fewer were home for deliveries—and older clients had retired to Florida. "We're holding the dike and I've got my big thumb in it," Walter says of his waning profession.
In the meantime, his customers are happily slurping and swigging away. It will be hard to swallow the endgame.
Story by Roberta Cruger