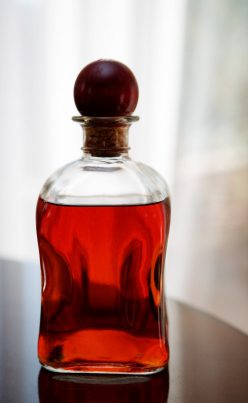 From New York to Michigan to Oregon, cherry season is in full swing, and back in Martha Washington's day that meant it was time to mix up a batch of homemade cherry bounce—the first First Lady even documented her own version on husband George's stationary. Fortunately, that tradition lives on today, and now's the perfect time to make a batch yourself. An infusion of fresh cherries, sugar and spirit (typically brandy, whiskey or rum), cherry bounce offers a delicious taste of summer. And cocktail consultant Todd Appel has just the recipe. Appel updated the colonial classic to fuse plump, ripe cherries with rye whiskey and cane sugar for a taste of the season that'll last long after the last leaves fall from the cherry trees.
1 ½ quarts (6 cups) whole cherries (sour cherries work best, but any mix of fresh cherries will work)
1 quart rye whiskey
2 cups cane sugar (if using non-sour cherries, reduce to 1 cup of sugar and add 2 ounces of fresh lemon juice)
In a large saucepan, combine the cherries and sugar (and lemon juice, if using) and bring to a simmer over medium heat. Reduce heat to medium-low and continue to simmer for 20 minutes, stirring occasionally. Remove from heat and let cool.
Pour cooled cherry mixture into a large glass jar and add the rye whiskey. Secure the lid, shake to combine and let rest in a cool, dark place for 3 months.
After 3 months, strain into a clean glass jar. If desired, reserve infused cherries for garnishing. The bounce will keep for up to 2 months.
Todd Appel, Piranha Bros. Cocktail Consulting