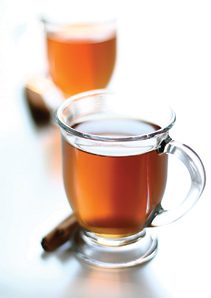 We love toddies for the complex layering of flavors that occurs when tea and spirits mingle. Combinations of whiskey, lemon and honey are classic, but why stop there? This toddy will brighten your winter with notes of citrus and spice.
2 cinnamon sticks
2 tsp. whole cloves
15 cardamom pods, crushed
7 star anise pods
1 tsp. black peppercorns
2 Tbsp. Ceylon or English Breakfast tea
3 oz. aged rum
16 oz. water
2 tsp. honey, or to taste
½ oz. fresh lemon juice
Tools: saucepan, tea infuser, fine strainer, spoon
Glass: mug
Combine spices with water in a saucepan. Bring to a boil, lower the heat and add tea (in an infuser) to the water, allowing to steep for 4 minutes. Remove the tea infuser but allow the spices to simmer for another 6 minutes. Strain spiced tea into two glasses. Stir in 1 ½ oz. rum, ¼ oz. lemon juice and 1 tsp. honey (or desired amount) into each glass. Serves 2.