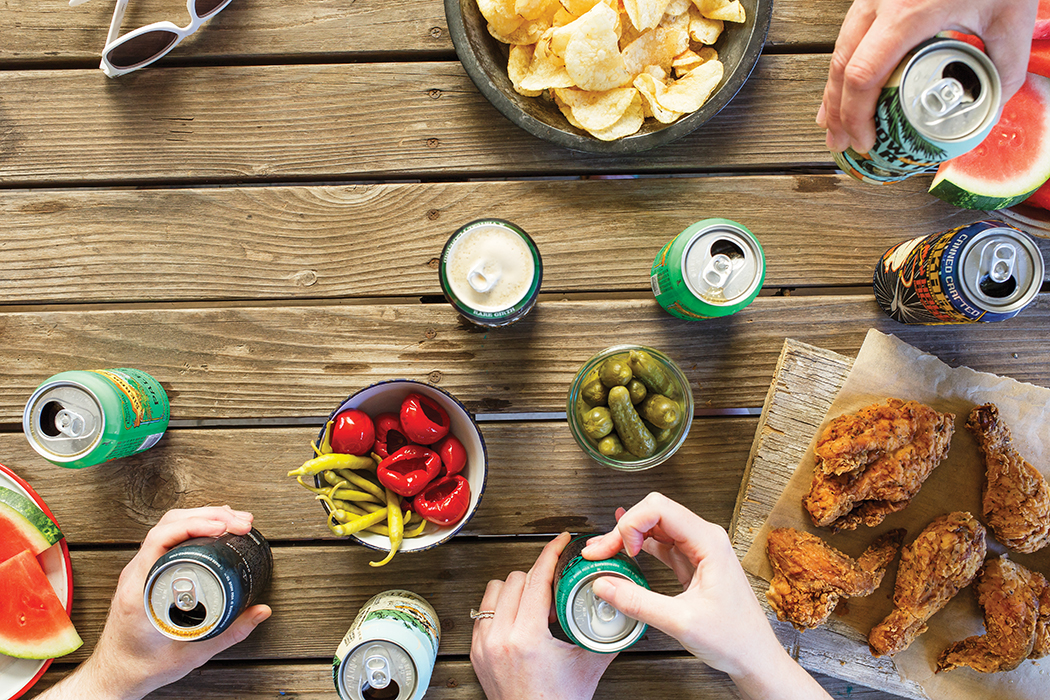 From backyard barbecues to weekend campouts, no summer drinks plan is complete with canned beer. But we're talking about the good stuff, of course. In our July/August 2015 issue, Joshua M. Bernstein taps into the can-do attitude of craft brewers who shrug off the notion that canned brews are uninspired. "Fifteen years ago, canned beer meant bulk-buy lagers, in which quantity trumped flavor," Bernstein writes, "but ever since Oskar Blues Brewery clad Dale's Pale Ale in aluminum, public perception has shifted." As for any trace of a tinny taste? "Vanished," Bernstein continues, "today's cans keep beer fresher for longer, ably vanquishing bottled beers' mortal enemies, oxygen and sunlight." And with more than 500 breweries now canning, there are plenty to choose from—here are 20 of our favorites.
Alchemist Heady Topper | Waterbury, VT 8% ABV
Brewed in 12-barrel batches and available only around Vermont, this double IPA quickly rose to cult classic status—and for good reason. The sole focus of the brewery, Heady Topper is an IPA-lover's dream with unabashed hop aromas and flavors—coming from six different hop varieties—that evolve with every sip.
21st Amendment Down to Earth | San Francisco, CA 4.4% ABV
This spring, the Bay Area brewery replaced its low-alcohol pale ale, Bitter American, with this citrusy, mango-scented session IPA backed by biscuity malt.
Anderson Valley Summer Solstice Cerveza Crema | Boonville, CA 5.6% ABV
This beer proves that not all summer seasonals are light and citrusy. Like a complex cream soda for grown-ups, this cerveza shows a creamy, sweet malt body backed by traces of vanilla and caramel. But it's only released in the warm summer months, so stock up while you can.
Base Camp Rip Stop Rye Pils | Portland, OR 5.7% ABV
Packaged in a clever aluminum bottle, this portable pilsner is brewed with the addition of a spicy rye malt, adding a peppery kick to a traditionally mellow style of beer.
Caldera Brewing Pale Ale | Ashland, OR 5.4% ABV
Brewed with whole-flower Cascade hops, the frothy, ecru head of this pale ale gives off tropical, fruity aromas while the hopped-up piney flavor is a perfect match for campfire-scorched hot dogs.
Creature Comforts Tropicalia | Athens, GA 6.5% ABV
The latest darling on Athens, Georgia's craft brew scene, Creature Comforts has quickly become a local favorite. One of two beers they can, this fruit-kissed IPA tastes like a trip to tropics, with a refreshing sweep of hop bitterness on the finish.
Firestone Walker Easy Jack | Paso Robles, CA 4.5% ABV
Of-the-moment German hops, including zesty Bavarian Mandarina and honeydew-esque Hull Melon, help the Californians' session IPA—finally in cans—stand out in a crowded field.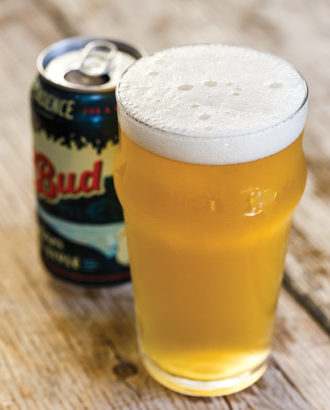 Independence Brewing RedBud | Austin, TX 4.5% ABV (pictured left) 
To beat Texas' summer swelter, Austin's long-running Independence uncorked this lemony Berliner weisse that's totally tart and refreshing.
Maui Brewing CoCoNut Porter | Lahaina, HI 5.7% ABV
Imagine drinking in all of the flavors of a gooey German chocolate cake—from a can. A rich brown head and delicate aromas of toasted coconut and blackstrap molasses make this porter—full of dark chocolate and caramel malt—divine on its own, but we'll take ours alongside a brownie a la mode.
Maui Brewing Bikini Blonde Lager | Lahaina, HI 4.5% ABV
This Munich Helles-style lager is soft-spoken, but not subdued. Aromas of chamomile and hay open up to crisp carbonation and floral hops flavors, while a touch of toasted wheat rounds out the finish. Perfect for an afternoon on the beach.
New Belgium Snapshot | Fort Collins, CO 5% ABV
To create this lightly puckering refresher, the Coloradans blended a wheat beer with one fermented with souring Lactobacillus. The result: picture-perfect.
Oskar Blues Ten FIDY Imperial Stout | Lyons, CO 10.5% ABV
Oskar Blues founder Dale Katechis was among the first craft brewers to can beer, and this imperial stout proves that big beers don't necessarily come in bottles. Dark as motor oil, Ten FIDY is not for the faint of heart. Intriguing, savory aromas of smoked meats and tangy olives unfold into flavors of earthy dark chocolate and roasted espresso beans. Try it with pungent cheeses or a rich, chocolaty dessert.
Oskar Blues Old Chub | Lyons, CO 8% ABV
Seven different malts and a touch of beechwood-smoked grains make it into this Scottish strong ale from Oksar Blues, offering up sweet toast and chocolaty flavors throughout with a whisper of smoke on the finish.
Rhinegeist Hustle vCincinnati, OH 5.4% ABV
Cincinnati's fast-growing Rhinegeist hits another home run with Hustle, a baseball-themed, rye-focused pale ale packed with Australia's melon-like Galaxy hops.
Sierra Nevada Nooner Pils | Chico, CA 5.2% ABV
Heaped with noble European hops, Sierra Nevada's new German-style pilsner sports a spicy edge and a finish as dry as a desert afternoon.
Sixpoint Jammer | Brooklyn, NY 4.2% ABV
Summer's in season with this gose-style beer from Brooklyn-based Sixpoint. Brewed with coriander and salt from Jacobsen Salt, it's tart, tangy and utterly refreshing.
Sly Fox Helles Golden Lager | Phoenixville, PA 4.9% ABV
Cans of Sly Fox's soft, bready and supremely drinkable Helles are now sold with fully removable lids, letting you savor more aroma and flavor.
Sly Fox Pikeland Pils | Phoenixville, Penn. 4.9% ABV
Grassy and almost vegetal with just a hint of lemon, this is German-style pilsner at its best. Pour it into a pint glass and sip alongside grilled bratwurst and sauerkraut.
Stillwater Yacht | Baltimore, MD 4.2% ABV
With his Contemporary Works line, saison-driven gypsy brewer Brian Strumke is exploring different styles, such as this floral, grassy summer-friendly lager sold by the 16-ounce can.
Surly Brewing Furious IPA | Brooklyn Center, MN 6.5% ABV
Brewed with four different American hops varieties, this bold IPA drinks almost like an imperial. Tangy citrus aromas of grapefruit and tangerine are met with a pleasant caramel malt body that will have serious hopheads raring for another sip.