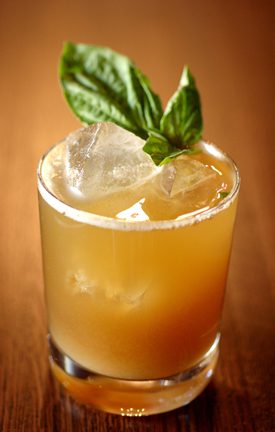 Bourbon and basil meet in this tart and tangy cocktail combining balsamic syrup and ginger beer.
1 1/2 oz. bourbon
4 fresh basil leaves
1 brown sugar cube
1/2 oz. balsamic syrup (see below)
2 oz. ginger beer
Tools: muddler, shaker, strainer
Glass: Old Fashioned
Garnish: fresh basil leaf
Muddle the balsamic syrup, basil and sugar cube in a mixing tin. Add bourbon and ice and shake hard. Strain over fresh ice cubes into an Old Fashioned. Top with ginger beer and garnish with basil leaf.
Balsamic Syrup: Combine 1/4 cup of balsamic vinegar and 1/4 cup of simple syrup (1:1) in a saucepan over medium-high heat. Bring just to a boil, reduce heat to medium-low and let simmer for 1 minute, stirring occasionally. Remove from heat and let cool.
Jerry Slater, H. Harper Station, Atlanta