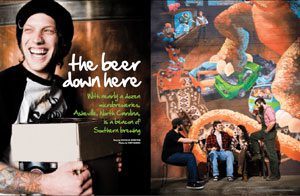 Back in 2004, friends David Quinn and Jason Caughman concocted what they considered a killer business plan. Quinn, a gifted homebrewer whose pale ale won gold in the 2003 American Homebrewers Association's National Homebrew competition, and Caughman, a skilled graphic artist, would merge their talents to create organic beers that looked as good as they tasted. The duo even scored a deal on used brewing equipment. Problem is, it had nowhere to go: "We had to take my idea off my back porch and put it somewhere," says Quinn, 31.
Instead of casting their lot on the West Coast, the Folly Beach, South Carolina–based duo looked closer to home. In Asheville, North Carolina, they discovered a handful of thriving microbreweries—but none strictly organic. So they decamped to Black Mountain, North Carolina, located about 10 miles outside Asheville, and launched Pisgah Brewing Company, named after Mount Pisgah. The first keg of Pisgah Pale Ale was delivered to Asheville beer bar Barley's Taproom in April 2005, and they delivered their second three days later after the first sold out. "We swooped in and stirred the pot when it needed stirring," Quinn says.
While the progressive western North Carolina town has long attracted tourists and outdoorsmen with its vibrant gallery and music scene, farmers' markets, art deco architecture and the rugged Blue Ridge Mountains, the bohemian city of 70,000 now boasts more breweries per capita—nine, plus Black Mountain's Pisgah—than even Portland, Oregon. "This is where moonshine was born, and there's still a spirit of making your own hooch," explains Mike Rangel, 43, co-owner of the Asheville Brewing Company.
Take a lazy stroll around the condensed, walkable downtown—mainly mom-and-pop shops and locally grown businesses—and you can stop into bars like Barley's, the Thirsty Monk and the Mellow Mushroom pizza parlor (serving 71 draughts) to sample among 50-odd styles of locally crafted beer. After that, you can stock up on six-packs and 22-ouncers of your favorites at world-class Bruisin' Ales. Or maybe you'll hit Wedge Brewing for a tour, a tasting-room session and a growler of citrus-tinged Iron Rail IPA. Though Asheville possesses an easy-going charm and laid-back vibe, it takes its cues less from the South than another region associated with craft beer. "Asheville," says Barry Bialik, owner of the Thirsty Monk beer bar, "is a West Coast city on the East Coast."
Beer is finally here
Asheville's brewing renaissance can be traced to finicky Oscar Wong. In 1994, the retired engineer was struggling to keep afloat his budding Highland Brewery, headquartered in a basement and functioning with retrofitted dairy-farm equipment. Compounding matters, batches of Highland's brew weren't up to snuff. Wong faced two choices, neither appealing: ship the subpar suds or send thousands of gallons swirling down a drain. "In the beginning, we dumped a lot of drinkable beer that didn't meet our standards," says Wong, now 69. "Quality was our biggest concern."
But Wong's patience—it took eight years to break even—and unwavering commitment to quality earned Highland a sterling reputation, with brews like the assertively hopped Kashmir IPA and the malty, amber Gaelic Ale currying local and regional favor. In the craft-beer universe, Asheville was officially on the map. "Highland's insistence on making high-quality beers really set the standard," says Tony Kiss, beer columnist for the Asheville Citizen­-Times. "It's one thing to make craft beer; it's another thing to make really good craft beer." With Highland as an anchor, Asheville's brewing scene gradually blossomed. By 1997, Celtic-style music pub Jack of the Wood had opened downtown, serving English ales (creamy stouts, a full-bodied E.S.B.) brewed under its Green Man moniker. The year before also marked the inaugural Brewgrass Festival, a daylong bash uniting bluegrass musicians and craft beer. Now in its 14th year, Brewgrass is an institution that sells out months in advance. "It's been a key player in promoting local beer," Kiss says.
But the local beer would be nothing without the key ingredient: "We get first crack at some absolutely pristine water coming down from Black Mountain," says Rangel, who founded Asheville Brewing Company in 1998 in a former movie theater, pairing bitter Shiva IPA with second-run movies. "The water is not too hard, not too soft and has low levels of minerals. It's perfect water for beer."
In 2001, Asheville's reservoirs started feeding French Broad Brewing. It mixed European-inspired suds (crisp and sweet Gateway Kölsch, the Wee Heavy-er Scotch Ale) with bands playing beside the brewing tanks. That made four breweries in town. That was news to Tony Kiss. "In 2002, I started writing my beer column," Kiss says. "The first year or so, it was every other week. Then it got to the point that my editors wanted me to do it every week."
Whether it was Highland's latest release or a new brewery opening (in 2005, that meant Pisgah), Asheville's hops beat was booming. Statewide, though, the biggest beer story was Pop the Cap. At the time, North Carolina's microbreweries were restricted from brewing beer stronger than 6 percent ABV—no double IPAs or delicious Belgian dubbels. Grassroots organization Pop the Cap (based in North Carolina's Raleigh-Durham region) lobbied to change the legislation, enlisting local brewers in the struggle. "I signed a petition and thought, 'Well, that's all well and good, but that won't happen in my lifetime,' " says Highland's Wong. "Then it passed." On August 13, 2005, the alcohol threshold was lifted to 15 percent, ushering in the next stage of Asheville's brewing evolution.
X marks the spot
After the cap was popped, husband and wife Jason and Julie Atallah envisioned a future filled with six-packs. "We decided we wanted to open a beer store," says Jason, who worked in sales and marketing in Charlotte, North Carolina, while Julie, 37, was a graphic designer. The couple loved visiting Asheville and sampling its brews, but in the fall of 2005, they came to town on more of a reconnaissance mission to find a retail space. They found a squat, brick pottery shop situated downtown, located within walking distance of bars and restaurants. Sold. By December, the Atallahs had opened Bruisin' Ales, Asheville's first—and sole—beer-only store.
To hedge their bets, the couple initially stocked mass-market beers, but as Jason, 35, recalls, "Nobody bought them." Today, the shelves and coolers of their cheery, tin-ceilinged shop brim with more than 800 international and local offerings, from the dark stouts of Farmville, North Carolina's Duck Rabbit to Westmalle Trappist ales to French Broad's Altbier. If a beer's sold in the southeast, it's likely at Bruisin', where tastings occur weekly and two kegs are always tapped for sampling. "We've stocked beer just about everywhere we can," Jason says of the store, where stacks of beer boxes are often topped with six-packs.
In a city Asheville's size, a small, passionate store can have an outsized impact on the community. After discovering beers at Bruisin', customers often seek similar brews at bars around town, fostering a natural synergy. "Julie and Jason are incredible beer evangelists," says the Thirsty Monk's Bialik. "Bruisin' Ales primed the demand for what we do." At first, Bialik, 39, was a real estate developer. But when the basement tenant moved out of his corner brick building he was inspired to turn the cave-like confines into Asheville's first Belgian bar. He opened the Thirsty Monk in January 2008, pouring 14 Belgian-style brews on tap and more than 150 by the bottle. The Monk was such an immediate hit that, by July, he was expanding into the sunny, spacious ground floor to fill another niche.
Since stalwarts like Barley's Tap Room and Westville Pub largely focus on local beers, out-of-state microbreweries such as California's Bear Republic and Pennsylvania's Victory can get crowded out. So Bialik installed 16 draught lines centered on national (and some local) craft beers, never tapping the same brew twice in a row. Plus, he purchased his own empty cask-ale firkins in order to "bring cask ale to town," Bialik explains. "The more we can make Asheville the best beer destination, the better it is for everybody."
Too much of a good thing?
There's almost an embarrassment of microbrew riches in Asheville. The last year has witnessed a liquid gold rush, starting in spring with Billy Klingel's OysterHouse Brewing, located inside the Lobster Trap restaurant, serving the Moonestone Stout brewed with fresh oysters. November saw Bill Drew and Jonathan Cort's Craggie Brewing, with a British-style Battery Hill Bitter as well as a spicy, hoppy Solshine Belgian ale. Then December welcomed what Kiss calls a "game-changer," the Lexington Avenue Brewing Company.
Taking up the first floor in downtown's historic former T.S. Morrison's general store, the LAB complex is equal parts restaurant, music venue and brewery, crafting unfiltered lagers and ales. "There's no traditional-style brewpub in Asheville," explains co-owner Mike Healy, 40, of his venue that can seat more than 300 thirsty revelers. "Most of Asheville's breweries just have an attached tasting room. We have a covered patio and a serpentine, 92-foot-long bar. It's unlike anything Asheville has ever seen."
Still, it remains to be seen if Asheville can support this surplus of new microbreweries. "There was a point when the fifth and sixth breweries were coming online, and I thought, Oh, boy, we've oversaturated the market," says Asheville Brewing Company's Rangel. "As friendly as we are, there's a competition for taps. There are a finite number of draught handles in town." The Thirsty Monk's Bialik seconds that, adding, "Though there are more breweries, it's not like there are that many more drinkers."
So while newcomers like Pack's Tavern, which is due to open this spring, may add another 30-odd taps to the marketplace, Asheville's breweries are not able to strictly rely on draught accounts. For local-beer lovers, this is a glass-half-full problem. Pisgah, for example, transformed its tasting room into a built-out bar, adding nightly live music and a projection-screen TV broadcasting sports and movies. "We're an afternoon destination," Quinn says. "Since we can keep our costs down"—pints start at a few bucks—"we're not directly competing with bars and restaurants." Other breweries have begun spreading Asheville beer throughout the southeast, with Highland leading the charge in seven states, including Florida, Georgia and Alabama. "People tell us, 'We tasted your beer when we came through, and we're so happy you came here,' " says Highland's Wong.
Still, the town's microbreweries realize the key to Asheville's brewing future is collaboration. Last year, Bruisin' Ales banded together with local breweries and the Mountain Ale and Lager Tasters homebrew club to form the Asheville Brewers Alliance (Rangel is president). Besides promoting area beer and sharing information on, say, distributors or the cost of CO2, the ABA plans to institute beer-education seminars, create walking-tour maps of breweries and host a Beer City Brew Fest.
"Our goal is to present Asheville as a beer-friendly town," Rangel says. "People always talk about the leaf watchers"—foliage lovers who travel to Asheville to watch the leaves change colors—"but beer tourism is uncharted. People are deciding where to vacation based on how great the beer is." And Asheville's beer, Rangel feels, will only get better. While the market may be crowded, Rangel sees room "for another three or four breweries without people stepping on each other's toes. What it boils down to is that everyone's beers are different. The Wedge IPA doesn't taste like our Shiva IPA."
Pisgah's Quinn echoes his sentiment. "There's always room for good beer in a market. For breweries
in Asheville, there's plenty of grass in the pasture yet."