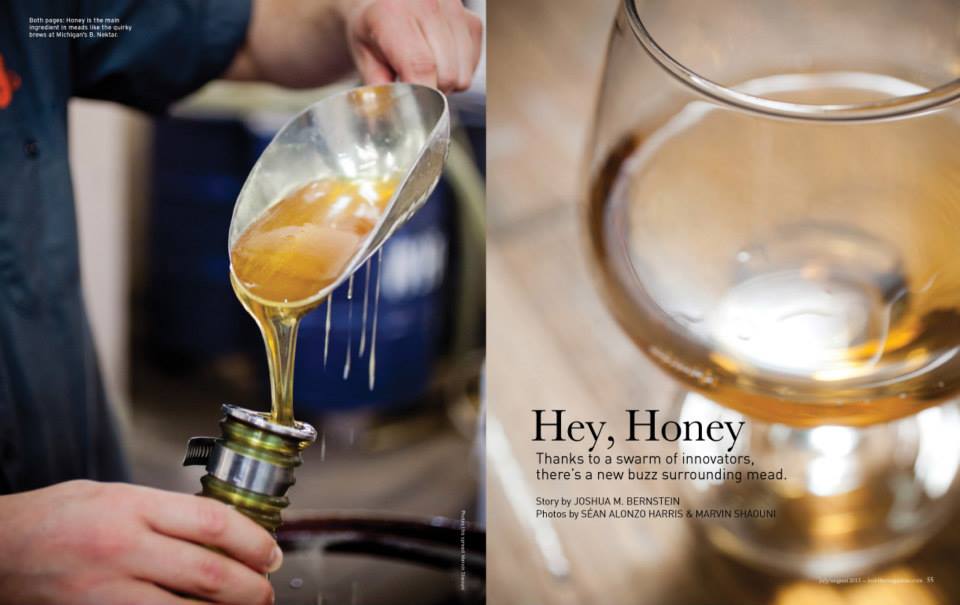 Michael Fairbrother was never sweet on his career. As an engineer and later vice president and chief operating officer of software companies, the New Hampshire native's day job was a drag. His heart lay in homebrewing, though he was hardly monogamous with barley. Since his introduction to cyser—a mead made with apple cider and honey—at a homebrew-club meeting in 1995, Fairbrother has been infatuated with making mead, one of mankind's oldest alcoholic beverages. Mix honey with water, wait for its natural yeasts to convert sugars into alcohol and you have mead. Its discovery was likely serendipity. In the New Hampshirite's hands, serendipity became honed artistry.
Over the subsequent decade, he began blending meads with blueberries, black currants and Vietnamese cinnamon, creating balanced, complex honey wines. Accolades stacked up and, in 2007, Fairbrother received the first of three straight New England Mead Maker of the Year titles. Could he make mead a career? In 2009, Fairbrother bumped into Surly Brewing founder Omar Ansari at a conference in Boston. Fairbrother mentioned that he wanted to open a meadery, likely part-time. "[Omar] said, 'How can you do something you love part-time?' " Fairbrother recalls. "He changed my life with a single sentence."
Shortly after, Fairbrother started production at Moonlight Meadery. On July 1, 2010, he released the sweet and beguiling Desire, made with blueberries, black cherries and black currants. "On July 8, I quit my job," says Fairbrother, who has made Moonlight one of America's fastest-growing (distribution in 23 states and counting) and eclectic meaderies. To date, Fairbrother has released nearly 70 different meads, from mango-infused Sumptuous to coffee-flavored Kamasumatra and Red Dress, which contains strawberries and rhubarb.
Mead is one of America's most polarizing, and misunderstood, alcoholic beverages. Mention it to most people and they'll recoil, recalling the cloying booze that, along with oversize turkey legs, is a Renaissance Faire staple. That's a bit like judging American beer on a baseball-game macrobrew. Across America, meaderies are moving past that cliché, creating sublimely inventive meads that range from bone-dry to dessert-sweet, and spiced with just about any fruit, herb or vegetable pulled from the pantry.
With modern mead, there's hardly a hive-mind approach. Terroir is crucial for Colorado's Medovina, which makes mead with honey harvested from their own hives, while Alaska's Celestial Meads incorporates locally grown apples and currants into its collection of raw-honey meads. Craft brewing inspires the bourbon barrel–aged and hopped meads made by meaderies such as Michigan-based B. Nektar, Colorado's Redstone Meadery and Maine Mead Works. Mead is also proving its versatility in cocktails, which you'll find at the Chicago-area restaurant Inovasi and Columbus, Ohio's Brothers Drake Meadery, which runs a bar serving mead-based mixed drinks.
Fermenting a Revolution
Crisscross the globe and you'll find that mead and its variants have long been cherished. In Ethiopia, the popular t'ej is inoculated with wild yeasts and flavored with bitter gesho twigs, while Mayans soaked the balché tree bark in honey and water to create the namesake ritualistic beverage. Mead also has roots in Russia, Finland, Poland, France, Israel and even Nepal. Despite its continent-spanning ubiquity, making mead is no snap.
That's what Anchorage, Alaska's Michael Kiker discovered during his initial mead experiment. "I thought, How bad it could it be?" recalls the veteran homebrewer, whose interest was piqued by recipes from The Complete Joy of Homebrewing. "After making a batch, I found out that it could be pretty bad."
Honey isn't an ideal fermentable, with fewer complex sugars than malt. Use too little honey and you'll have bone-dry low-alcohol mead—scant residual sugars remain. Angling for a stronger mead? Forget ale yeasts, which typically top out at 8 to 10 percent ABV and cease fermenting, leaving behind unwanted sweetness. Most optimal are wine and champagne yeast strains that can reach around 20 percent ABV, though yeasts work much slower at higher alcohol concentrations. Fermentation time is measured in months and years.
Even then, an alcohol-tolerant yeast strain does not ensure clockwork fermentation. Honey lacks necessary nutrients, notably nitrogen; without it, yeasts become stressed and develop funky flavors. "It was definitely a learning experience," says Kiker, who became consumed with mastering the finicky fermentable—not a surprise, given his day job as a database manager. Mead, he found, was a blend of precision and boundless exploration, with an endless combination of fruits, herbs and honeys at his disposal.
By 2005, Kiker was nearing retirement when "I went a little crazy and started a meadery," he says. He sold his first bottle of Celestial Meads in April 2007. Because Alaska has few beekeepers, Kiker sources raw honey from across the continental United States, playing close attention to provenance. "Terroir plays a greater role in honey than grapes," says Kiker, whose semi-sweet, French oak–aged Blue Ridge Harlot hails from North Carolina's Blue Ridge Mountains, while fruity Southern Heat features Florida's famed Tupelo honey. "If you ferment orange blossom honey from California and orange blossom honey from Florida, they'll taste totally different."
The HoneyMaker meads from Portland's Maine Mead Works also taste markedly different. They drink dry, crisp and delightfully delicate, making them more in line with well-crafted white wines. "We want to show that mead is light, food-friendly and can be a part of everyday life," says owner Ben Alexander, whose initial ignorance of mead led to an infatuation. "I was dumbfounded that I knew nothing about it," says Alexander, who began a scholarly dive into the history of honey wine. His investigations led him to South Africa's Dr. Garth Cambray, who did his PhD research on indigenous techniques for creating mead. (He also founded South Africa's Makana Meadery.)
For help perfecting his recipes, Alexander invited Cambray to Maine. The scientist accepted, toting a yeast strain adept at fermenting mead and details on constructing a continuous fermentation system—a one-two punch to accelerate honey's conversion into alcohol. Honey and water flow through a single-column fermenter containing the voracious South African fungi, which feast on the sugary liquid for around 24 hours. It exits the column at about 8 to 10 percent ABV, then finishes fermenting in tanks for several weeks. The graceful finished product is a perfect platform for infusing with fruits and herbs ranging from strawberries to cranberries to lavender and blueberries. "Our goal is to use honey as a showcase for other ingredients," Alexander says. "We want to put Maine in a glass."
Getting Crafty
The mead industry has much in common with craft beer. Thirty years ago, American beer's reputation was at rock bottom. Over time, rule-breaking craft brewers gave beer a drastic, and lasting, makeover. To refresh honey wine's status, many meaderies are taking cues from craft brewing and dry-hopping meads, selling them in growlers and on draft, and aging them in oak barrels that once contained wine, bourbon or, fittingly, imperial stouts.
Colorado's Redstone Meadery sells its sparkling, lower-alcohol Nectar line (including the dry-hopped Nectar of the Hops) on draft and in stopper-top bottles, and it blends meads with beer from local breweries, such as New Belgium. Crafted Artisan Meadery adds floral, citrusy Cascade hops to its Hop Nectar, and at its facility Celestial Meads sells sparkling meads by the growler. (Additionally, Celestial has started a spinoff line called Alaska Meadery that focuses on high-end, high-alcohol barrel-aged meads.)
Still, few meaderies embrace craft beer quite like Michigan's B. Nektar, a business born out of both the recession and an obsession. When Kerri Dahlhofer lost her graphic-design gig in 2006, she headed to her basement, where her husband, Brad, had become fixated with making high-quality mead. "Once I get obsessed about something, I don't stop," says Brad, a former IT professional and longtime homebrewer. "What attracted me to mead was that there were no rules."
The couple (and a friend, Paul Zimmerman) spent two years seeking licensing and regulation. Then Dahlhofer also lost his job. "We never planned to make a living off the meadery," he says. But during the years of planning Dahlhofer realized that mead might be his calling. The couple maxed out their credit cards, drained their bank accounts and launched B. Nektar. Early offbeat releases included the tropical, coconut-infused Pineapple Melomel (melomel is the term for a mead made with fruit), Raspberry Chipotle Mead and mellow Bourbon Barrel Mead. "From the beginning we attracted the craft beer crowd," says Brad, who has continued to blur the boundaries between mead and beer.
Currently, he's lagering mead with Saaz hops ("It's reminiscent of a Bohemian pilsner," he says), tinkering with a tart, Berliner weisse–style mead and rolling out lower-strength draft offerings, such as the Evil Genius IPA-Style Mead. Even for adventurous beer drinkers, it can be a head-scratcher. "People tell us that it tastes like honey and hops," Brad says. "They see the word IPA and forget the hyphen."
Undeterred, Brad continues devising hybrids, such as Duck Duck Goose, a coffee-infused mead that's aged in bourbon barrels that contained Goose Island Bourbon County Stout. Additionally, B. Nektar's Ghost Stories braggot—it's fermented from barley and honey—was crafted in conjunction with Florida's Cigar City Brewing, which recently launched a separate cider and mead company. Likewise, Oregon's Rogue Ales makes 19 Original Colonies Mead with its own honey, and Michigan-based Kuhnhenn Brewing's madcap meads have included Raspberry Daiquiri and Bourbon Barrel French Toast Mead, which is flavored with bananas, hazelnuts and maple syrup.
And though Samuel Adams does not dabble in mead, the brewery supplies barrels that aged its rare, potent Utopias to Moonlight's Fairbrother, who previously ran Samuel Adams' Patriot and LongShot homebrew competitions. Fairbrother uses the casks to season the dry, oaky Temerity; vanilla-noted Virtue; and the Cognac-like Utopian. As a thank you, Fairbrother sent a bottle of Utopian to Samuel Adams founder Jim Koch. One night, Fairbrother received an email from Koch, who had just shared the Utopian with his wife. "He said it was a big improvement on wine," Fairbrother says, laughing, "which is probably the best compliment I could get. He's never going to say it's better than beer."
In the Mix
Slowly and steadily, mead is rising in America. At this year's Mazer Cup International competition in Boulder, Colorado (the mead world's equivalent of the Great American Beer Festival), there were 342 commercial entries, up from around 200 in 2012. Ken Schramm's The Compleat Meadmaker has minimized missteps for novices. And the first Saturday in August is National Mead Day, with celebrations from coast to coast. Despite honey wine's increasing prominence, there remains a huge hurdle to mainstream acceptance: misconceptions. "Many people who come here for the first time have a deer-in-the-headlights look," says Celestial Mead's Kiker. "It's as if they expect mead will taste terrible."
A negative early experience with mead—say, a bad homebrewed batch—can permanently impact perceptions. Moreover, mead is often judged against beer or, due to labeling laws, more commonly wine. If mead tops 7 percent ABV, it's deemed a honey wine, no matter if it's hopped and aged in a whiskey barrel. "Calling it wine turns off some beer drinkers," says B. Nektar's Dahlhofer.
One successful way to sway cautious consumers is mead cocktails. On their websites, Redstone Meadery, Maine Mead Works and Washington's Mace Mead Works provide recipes for mead-based mixed drinks. At Inovasi, a New American restaurant in Chicago's northern suburbs, owner and executive chef John des Rosiers regularly turns Illinois-sourced wildflower honey into a 10-gallon batch of mead that he ages for more than a year. When ready, it's blended with lemon juice, mint, simple syrup and club soda and served in a mason jar. "Cocktails are a great way to introduce someone to mead," says Eric Allen, the general manager at Brothers Drake, a meadery in Columbus, Ohio, that also operates a bar and live-music venue specializing in local spirits and beer.
Brothers Drake offers habanero-infused mead shots and nearly a dozen mead cocktails, such as the Wild Sweet Annie made with delicate Wild Ohio mead, locally distilled OYO Whiskey and ginger liqueur. Furthermore, Brothers Drake follows brewpubs' lead and offers customers flights of its meads, such as Black Liquorice, blueberry-infused Bergamot Blue and Paw Paw, which contains the indigenous tropical fruit and peppery spicebush berries. If these seem avant-garde, that's precisely the point. "A traditional mead is like a blank canvas," says production manager Candy Griffen. "We were even tossing around the idea of adding seaweed to mead. Wine and beer are so much more restrictive."
The freedom and versatility of mead lets it occupy a unique perch in America's drinking pecking order. Mead hovers between beer and wine, but also cozies up well to spirits. You can bring a bottle to a dinner party, drink it on draft at a bar, shoot it like whiskey or make a cocktail. With time and mead makers' continuing ingenuity, there seems to be no place that the chameleonic elixir can't go—well, almost no place. "I was in talks with a big Renaissance Faire to sell my meads," says Moonlight's Fairbrother, "but they turned me down. They said, 'Your meads are fantastic, but our customers don't expect meads to taste this good.' "