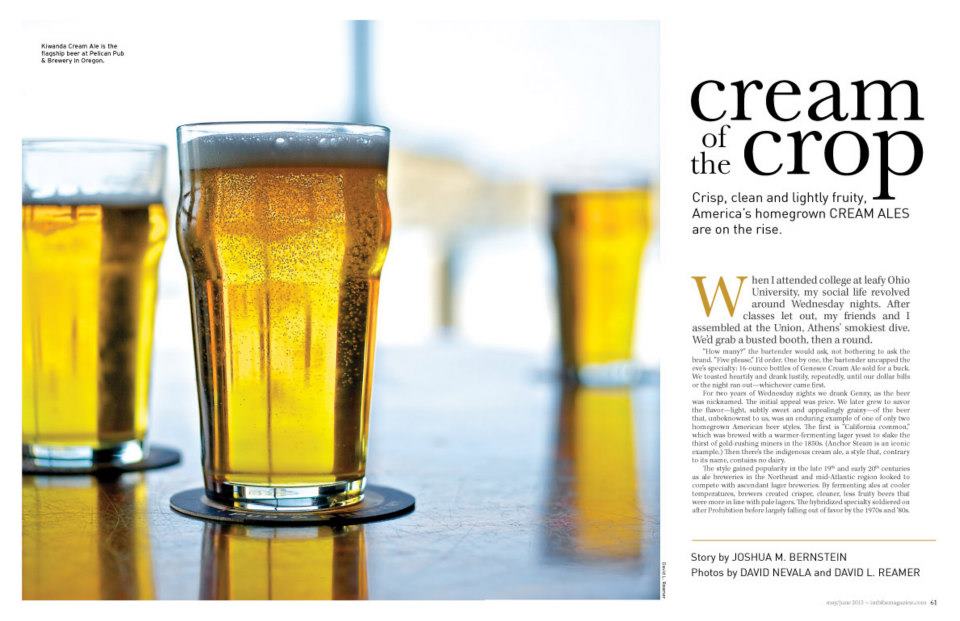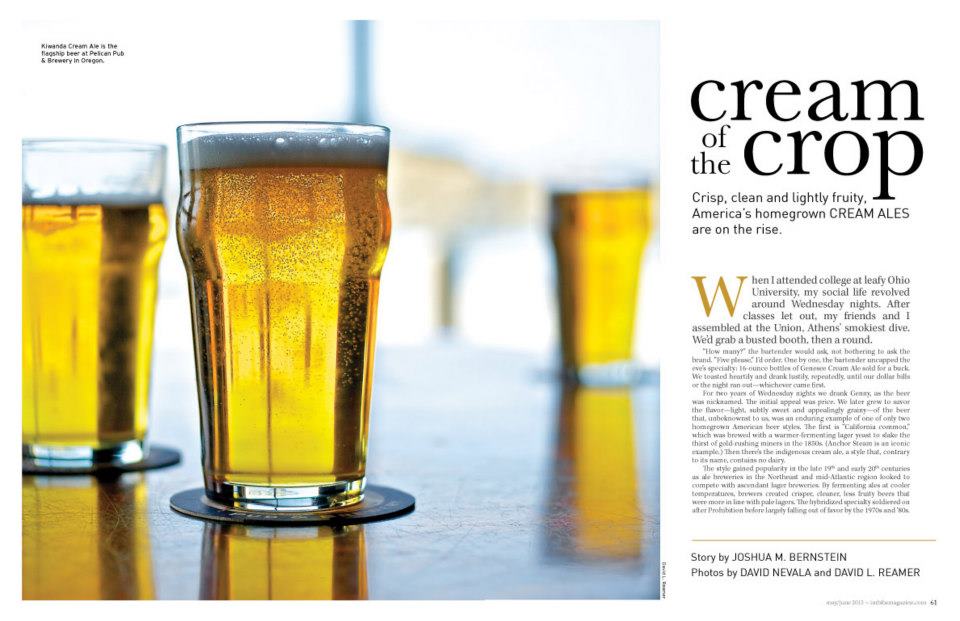 When I attended college at leafy Ohio University, my social life revolved around Wednesday nights. After classes let out, my friends and I assembled at the Union, Athens' smokiest dive. We'd grab a busted booth, then a round.
"How many?" the bartender would ask, not bothering to ask the brand. "Five please," I'd order. One by one, the bartender uncapped the eve's specialty: 16-ounce bottles of Genesee Cream Ale sold for a buck. We toasted heartily and drank lustily, repeatedly, until our dollar bills or the night ran out—whichever came first.
For two years of Wednesday nights we drank Genny, as the beer was nicknamed. The initial appeal was price. We later grew to savor the flavor—light, subtly sweet and appealingly grainy—of the beer that, unbeknownst to us, was an enduring example of one of only two homegrown American beer styles. The first is "California common," which was brewed with a warmer-fermenting lager yeast to slake the thirst of gold-rushing miners in the 1850s. (Anchor Steam is an iconic example.) Then there's the indigenous cream ale, a style that, contrary to its name, contains no dairy.
The style gained popularity in the late 19th and early 20th centuries as ale breweries in the Northeast and mid-Atlantic region looked to compete with ascendant lager breweries. By fermenting ales at cooler temperatures, brewers created crisper, cleaner, less fruity beers that were more in line with pale lagers. The hybridized specialty soldiered on after Prohibition before largely falling out of favor by the 1970s and '80s.
After decades of disinterest, cream ales are once again rising as American brewers have begun embracing the style. In Rhode Island, Narragansett Beer recently revived its iconic Cream Ale, and North Carolina's Fullsteam uses local barley and grits in its El Toro cream ale. Oregon's Pelican Brewery found a flagship in its floral Kiwanda Cream Ale, and New Glarus' Spotted Cow is one of Wisconsin's top-selling draft beers. For other brewers, the cream ale is a springboard to innovation. Wisconsin's Furthermore mixes apple cider and cream ale to create Fallen Apple, while last year Florida's Cigar City released El Murciélago, a double cream ale spiced with cumin and lime peel and aged in tequila barrels.
Competition: The Mother of Invention
In the first half of the 19th century, America drank dark, fruity and murky ales influenced by British brewing traditions. By the century's close more than 5 million German immigrants had arrived in the United States, including brewers toting the know-how to make crisp, lighter-hued lagers. They revolutionized beer consumption. "By the time Prohibition had hit, most people were drinking pale lagers," says Randy Mosher, an author, brewing historian and partner at suburban Chicago's 5 Rabbit Cerveceria.
With market share dwindling, ale breweries in the northeast and mid-Atlantic—Cincinnati, Ohio, was essentially the western and southern limit—began expanding product lines. They typically included a strong stock ale, a medium-strength sparkling ale and a lighter "present use" ale, also known as the cream ale. ("Present use" signified that the beer should be quickly consumed.)
The range of ales was basically brewed identically, Mosher says, with the major difference being fermentation. Cream ales were fermented cooler, usually less than 60 degrees F. This created a restrained fruitiness and crisper profile, similar to the delicate, cold-fermented ales of Cologne, Germany. "When German brewers came here and found a demand for an ale product, they would've reached for the ale that they were most familiar with: the kölsch," Mosher hypothesizes. "In many ways, cream ale is the American kölsch. The real difference is that it uses adjuncts"—corn, rice—"to lighten the body."
By the 1900s, light, easy-drinking cream ales were commonplace, though Prohibition changed them for the worse. By the second half of the 20th century, cream ales had grown stronger, with newly introduced brands such as Cincinnati's Little Kings and upstate New York's Genesee Cream Ale tipping the scales at more than 5 percent ABV. Occasionally, they were even sweetened with sugar, a handy adulteration of history.
For example, New England's Narragansett Cream Ale, which predates Prohibition, originally had a bitter edge. But as the years disappeared, Narragansett's cream ale grew lighter and less bitter. After peaking in the 1950s and '60s, the Narragansett Cream Ale's popularity nose-dived before the brand was discontinued. "Cream ale was a big part of Narragansett's history and heritage," says Mark Hellendrung, president of Narragansett Beer Company. But did drinkers crave heritage? To find out, Narragansett ran an online contest to decide its newest year-round beer, pitting rye ale versus cream ale. The cream ale came out on top.
Re-creating a recipe was not so simple. The pre-Prohibition recipe was lost, and Hellendrung did not want to brew Narragansett's 1960s cream ale. Instead, the brewers pulled out a blank sheet of paper and went to work. "We wanted to create a hearty ale that was also super-sessionable," Hellendrung says. In the end, brewmaster Sean Larkin dialed up a golden ale that was fermented at 38 degrees F., creating a crispness that works in tandem with the subtly floral aromatics and bitterness that slices through the sweetness. The beer quickly proved its popularity. "We do more than 100 beer festivals a year, and Cream Ale was everyone's favorite beer at all the festivals. People would try it and say, 'I never knew what a cream ale tasted like. I can really get into that.' "
Raise a Flag
In craft brewing, cream ales will never steal the spotlight. They lack IPAs attention-grabbing bitterness, and they're not as novel as a bourbon barrel–aged imperial stout. But cream ales do possess several favorable traits: They're smooth, approachable and sippable by the six-pack, a combination that can benefit a brewery's bottom line.
When Wisconsin's New Glarus opened in 1993, cofounder and brewmaster Dan Carey mainly focused on German lagers. However, no one lager stood out from the pack, and Carey was reluctant to dabble in ales. "We were worried that we would not have a flagship," Carey says.
One day, Carey and his wife and business partner, Deb, visited an open-air museum called Old World Wisconsin. It's a collection of historic farm buildings that re-create European immigrants' historic farmsteads, right down to people dressed in historically accurate garb and performing era-appropriate tasks. The couple stumbled upon a German farm where, in the root cellar, people were brewing beer in a kettle. "I wondered, What was the beer made from?" Carey recalls. Outside, he spotted barley and corn crops. Since hops would've been expensive to import, he surmised that the beer would be lightly hopped with a blend of American and Bohemian hops.
Inspired, he returned to New Glarus and wrote a recipe relying on flaked barley and corn, with a kölsch yeast strain and a cooler secondary fermentation. "It was designed to be a beer that people in the 1850s would've made on their rustic system," Carey says of what became Spotted Cow, a "Wisconsin farmhouse ale." While distributors were initially hesitant about selling a sweet, fruity and bready beer named Spotted Cow, the response from beer enthusiasts was rabid. "It just so happened that people drank the hell out of it," Carey says. "We brewed more, and then they drank more of it."
Today, Spotted Cow is New Glarus' flagship and the top-selling craft draft beer in Wisconsin, making it the de facto state beer. Not bad for a cream ale. Or is that a Wisconsin farmhouse ale? "One thing about human nature is that people like to categorize," Carey says, laughing. "People are comfortable when things are in order and fit into neat categories."
Brooklyn-based Sixpoint Brewing's Sweet Action cream ale also defies simple categorization. "It wasn't like we had this grand plan to formulate a cream ale and make it a flagship," says founder and president Shane C. Welch. "Making a cream ale recipe was an accident."
Sweet Action was born out of a hybridized homebrew batch that Welch first made more than a decade earlier. The mutt was part wheat ale, pale ale and cream ale, resulting in a smooth, creamy beer with a heavenly hop profile. Sweet Action, which undergoes lagering at the end of production, was one of the first beers that Sixpoint released in 2005. If anything, it's even more popular today. In an era of imperial this and imperial that, "people want a well-crafted beer where the intention is not to assault their palate and blow them away," Welch says.
One upside of releasing Sweet Action in New York is that there's regional familiarity with cream ales, given Genesee's long-time presence upstate. That's not the case in Pacific City, Oregon, which is home to the Pelican Pub & Brewery and its Kiwanda Cream Ale. "People walk in and have no idea what a cream ale should be," says Pelican brewmaster Darron Welch. "We're able to establish its identity."
Pelican opened in May of 1996, and for one of the brewery's first summer seasonals, Welch decided to brew a pre-Prohibition cream ale. "I put myself in the shoes of ale brewers from the 19th century who needed something to help them compete with lager breweries," he says. Dubbed Kiwanda, his interpretation was snappy and refreshing, with a touch of malt sweetness and a fruity, floral aroma. Kiwanda remained a popular seasonal for several years, before it became a year-round constant in 1998. (The recipe has been slightly tweaked since then.)
While Kiwanda has won numerous awards, it's usually in the category for golden ales. "When I enter it as a cream ale, I have uniformly received comments from judges like, 'It's great beer, but it doesn't fit the style,' " Welch says. That's perfectly fine. After all, "I don't honestly know if Kiwanda is the way a cream ale used to be made," he admits. "Kiwanda is my thought on the evolution of cream ale as a beer style."
What's in a Name?
The cream ale is an almost ideal crossover beer. It's approachable enough for craft newcomers, but it's also nuanced enough for IPA die-hards looking to give their taste buds a break. However, there's a huge roadblock to cream ale's success: its name. "If you ask 20 beer drinkers what a cream ale is, you'll get 20 different answers," says Narragansett's Hellendrung.
Cream ales run the flavor gamut, from New York's silky, lustrous nitrogen-dispensed Empire Cream Ale to watery, low-cost Little Kings. Further muddying the picture, England's Boddington's used to advertise its pale ale as the "cream of Manchester," while Greene King brews the Wexford Irish Cream Ale—a pale ale with Guinness-like creaminess due to nitrogen. (The canned versions come with a nitrogen widget.)
Confusion aside, "the name can be off-putting," says Sean Lilly Wilson, who heads North Carolina's Fullsteam Brewery, which makes the grits-driven El Toro cream ale. "There's a lot of education involved." It can be tough sledding to get an El Toro in someone's hands, but having the beer on draft is also important. "At the taproom, people occasionally come in and say, 'I just want a beer.' We steer them toward the cream ale," Wilson says. "We just call it our 'beer' beer."
And though Fullsteam occasionally mixes the beer with lemonade to create a quintessentially American shandy, that's as far as the brewery adulterates the style. "We definitely won't make a hoppy cream ale," Wilson says.
There have not been many hoppy cream ales—yet—but brewers are using the light-bodied beer as a platform for innovation. Michigan's Short's Brewing once crafted the Pistachio Cream Ale, and Florida's Swamp Head adds Tupelo honey to its Wild Night cream ale. Oregon's Alameda uses plenty of pilsner malt and candi sugar to create the imperial-strength Bad Bunny, while Sixpoint occasionally rolls out souped-up, draft-only versions of Sweet Action, dubbed Double and Triple Sweet Action.
Though these experiments are fun, there's something to be said for the simple pleasures of a well-crafted, easy-going cream ale. It's a bona fide American classic forged from resourcefulness, innovation and a dash of desperation—kind of like the story of the country itself. "It's one of the few beer styles that we can say was 100 percent made in America," says Pelican's Welch. "The cream ale was shaped by the history and locality of people in the United States."